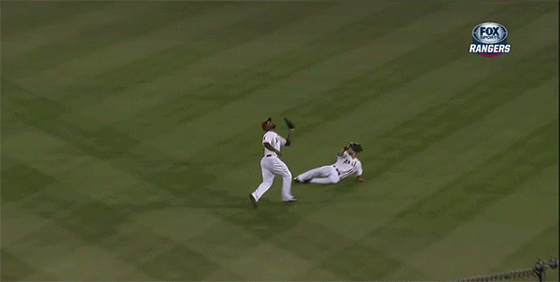 An MRI on Howie Kendrick's left knee Tuesday revealed a bone bruise and no structural damage, and the Angels will try to wait until week's end for him to recover before deciding whether to put him on the disabled list or not.
"We'll give him about four or five days to see how it progresses," manager Mike Scioscia said. "Obviously he's very, very sore and very stiff, but we'll give it a couple days to play out."
The Angels recalled Grant Green from Triple-A Salt Lake on Tuesday. He is starting at second base against the Texas Rangers and batting eighth. Chris Nelson and Tommy Field can also play the position, and those will be the only options until a decision is rendered on Kendrick.
Scioscia said that Kendrick will travel with the Angels on their seven-game road trip to Cleveland and New York starting Friday.
Kendrick hyperextended his left knee colliding with Collin Cowgill (above) in Monday night's 5-2 loss to the Rangers.