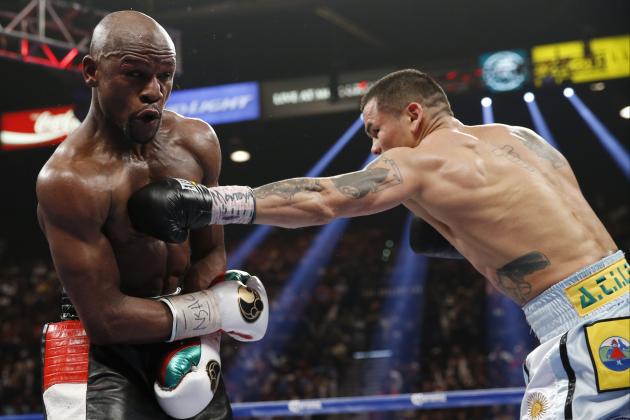 Marcos Maidana, right, lands a punch on Floyd Mayweather Jr. during their first fight won by Mayweather in May./Photo courtesy of Associated Press
Floyd Mayweather Jr. has not had a knockout victory since he stopped Victor Ortiz in the fourth round with that infamous and unsuspecting one-two punch in September 2011 at MGM Grand in Las Vegas.
Upon his arrival Tuesday at MGM Grand ahead of his title defense against Marcos Maidana there on Saturday, Mayweather said he's going for that gusto.
"I'm pretty sure Maidana is going for the knockout," Mayweather said. "I'm going for the knockout, so this is going to be an amazing show. I have a brilliant game plan and we'll see how it plays out Saturday."
Mayweather, 37, is 46-0 with 26 knockouts. Maidana, a much heavier hitter, is 35-4 with 31 knockouts. It's true, he is going for a knockout as well. But he'll take any kind of victory. Which makes sense, since Mayweather is undefeated and still the top pound-for-pound fighter in the world until someone proves otherwise.
"I'm definitely going to look for the knockout like I always do," said Maidana, 31, "but I will take the victory any way I can."
This will be a rematch of their May fight won by Mayweather via majority decision at MGM Grand.
The card is available on Showtime pay-per-view.