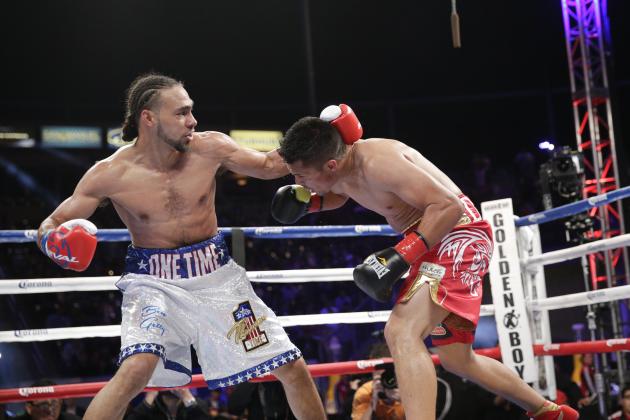 Keith 'One Time' Thurman, left, will defend his welterweight title Saturday against Robert 'The Ghost' Guerrero in the main event at MGM Grand in Las Vegas/Photo by Jae C. Hong, Associated Press
If you're not looking forward to Saturday's main event between welterweight champion Keith "One Time" Thurman and Robert "The Ghost" Guerrero at MGM Grand in Las Vegas (on NBC), you might want to check to see if you still have a pulse for prize-fighting.
Although Thurman (24-0) went the distance in his most recent fight – a 12-round shutout of Leonard Bundu in December at MGM Grand – he has otherwise lived up to his nickname with 21 knockouts in 24 starts. He was asked this week what fans can expect to see against Guerrero.
"I'll be honest, I'm going to stand there and exchange with him for six rounds and if he's still standing there, we'll see," said Thurman, 26, of Clearwater, Fla. "With my punching power, the KO can come at any time with that one punch. If he walks into it or I lunge at him … it can even be a body shot.
"I'm just looking to get him out of there. I'm going to do what I need to do to stay a champion."
Guerrero (32-2-1, 18 KOs), 31, has held world titles in featherweight and super featherweight divisions and interim world titles in the lightweight and welterweight divisions. He realizes what the hard-hitting Thurman can bring to the ring.
"Thurman has a lot of power and that's something I must be aware of," said Guerrero, of Gilroy.