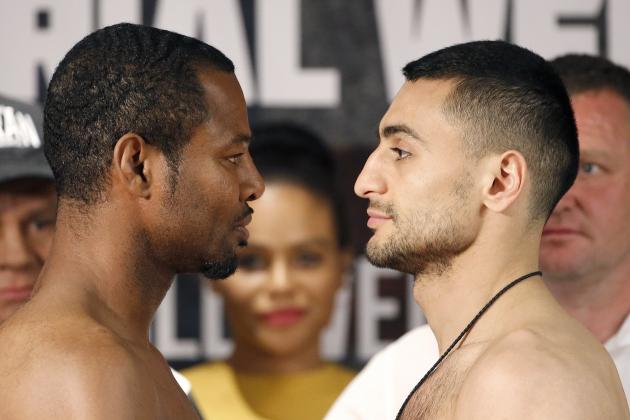 "Sugar" Shane Mosley and David Avanesyan face off ahead of their fight Saturday, won by Avanesyan via unanimous decision/AP photo by Ross D. Franklin
When you consider "Sugar" Shane Mosley is 44, he looked good Saturday during his 12-round unaimous-decision loss to David Avanesyan of Russia at Gila River Arena in Glendale, Ariz. The very idea that a man Mosley's age could give a respectable account of himself against a fighter 17 years his junior, was impressive.
But in talking to Mosley a couple of days before the fight, he wasn't still fighting so he could have people say he looked good for an old man. He said he was still active because of his love for the sport and because he thought he was still good enough to win at the top level.
Well, even though Avanesyan came in with an interim welterweight title, he did not come into the fight with an impressive list of opponents and he had never fought in the U.S. As the interim champion, he is in line to face the June 25 winner of the fight between full champion Keith Thurman and Shawn Porter. Avanesyan would seem to have little change against either man.
The point is, if Mosley can't beat Avanesyan, he should hang up his gloves once and for all. Mosley has had a great career. He will be in the International Boxing Hall of Fame. It's been a great ride.