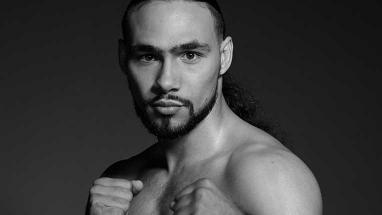 Keith Thurman/Photo courtesy of Premier Boxing Champions
Keith "One Time" Thurman has been a prize-fighter for some 8 1/2 years, but this is his 20th year in the game after taking up the sweet science at age 7 as part of an after-school program.
Thurman has plenty for which to be thankful, and he spoke about that this week as he continued preparation for his welterweight title defense against Shawn Porter on June 25 at Barclays Center in Brooklyn (on CBS).
"It's been an amazing journey and no one predicted this better than my first coach Ben Getty," Thurman, 27, said. "It puts me in a state of gratitude for Ben. He told everyone I'd be world champ, and here I am, defending my title against Shawn Porter. I am just starting to see what Ben Getty saw in me and the mark that I can make in boxing."
Thurman, who is now trained by Dan Birmingham and assistant Chris Getty – Ben Getty's son – is 26-0 with 22 knockouts. He won the interim title in July 2013 with a 10th-round knockout of Diego Gabriel Chaves in July 2013 and became full champion with a wide unanimous decision over Robert "The Ghost" Guerrero in March 2015; Thurman has made one successful defense.
The fight with Guerrero was only the fourth time Thurman had been taken the distance. He takes pride in his knockout ratio of 81 percent.
"My goal is to be known as the hardest-hitting welterweight in the division," said Thurman, of Clearwater, Fla. "This camp, if anything, I feel more comfortable. I'm fully recovered, sparring, training. I've been throwing power punches for what seems like forever and it's a little weird. I can't help but think about how this is my 20th year in boxing and knowing the longevity I've had. It's given me a new confidence."
Thurman and Porter (26-1-1, 16 KOs) were to fight in March, but Thurman sustained whiplash in a February car crash and the fight was postponed.