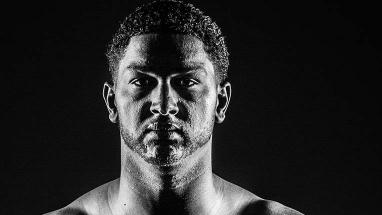 Dominic Breazeale/Photo courtesy of Premier Boxing Champions
Heavyweight contender Dominic Breazeale of Alhambra is only 30, so he was too young to see Muhammad Ali fight. But that didn't stop Breazeale from knowing a lot about Ali, who died June 3 and was laid to rest Friday in his native Louisville, Ky.
Breazeale (17-0, 15 KOs) spoke about Ali during a workout Tuesday in Ontario.
"Muhammad Ali was a huge inspiration," said Breazeale, who will challenge Anthony Joshua (16-0, 16 KOs) of England for his world title June 25 at O2 Arena in London (on Showtime). "Heavy hearts when great ones pass away like that. He was a wonderful man. I never had the opportunity to meet him, but I did meet some of his kids, Layla Ali being one of them.
"Ali was a very inspirational type of individual. You go back and watch some of his fights; I was way too young to see him fight in his prime, but I've seen the recordings and seen the video footage. Everyone says he did everything wrong, but everything right. It's just phenomenal."