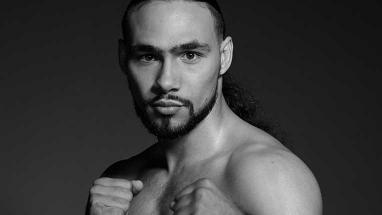 Keith Thurman/Photo courtesy of Premier Boxing Champions
Although two of his past three fights have gone the distance, welterweight champion Keith "One Time" Thurman is known as a fighter who can knock out any opponent, what with his record of 26-0 and 22 knockouts.
It's what he wanted to be able to do when he grew up taking apart older boxers.
"I've always considered myself a knockout artist, back to when I was a teenager knocking out grown men in headgear," said Thurman, who will defend his title June 25 when he takes on Shawn Porter (26-1-1, 16 KOs) at Barclays Center in Brooklyn (on CBS). "Ever since then, I've been dropping people like a bad habit."
Stopping opponents inside the distance is what Thurman lives for, so it's not surprising to find out the name of his boxing idol.
 "I love being a power-puncher," said Thurman, of Clearwater, Fla. "My favorite fighter of all time is Mike Tyson. One of my goals that I set when I was a kid was to have more knockouts than Mike Tyson throughout my career."