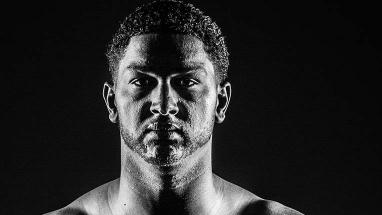 Dominic Breazeale/Photo courtesy of Premier Boxing Champions
Heavyweight champion Deontay Wilder holds one of the four championship belts, and he'd love to get the rest of them. That means he'll be an interested observer Saturday when Anthony Joshua (16-0, 16 KOs) defends his title against Dominic Breazeale (17-0, 15 KOs) of Alhambra at O2 Arena in Joshua's native England.
Wilder this week gave his thoughts on that fight, which be televised at 2:15 p.m. (Pacific time) on Showtime.
"I definitely see the fight as a 50-50," said Wilder, who July 16 will defend his title against Chris Arreola of Riverside at Legacy Arena in Birmingham, Ala. (on Fox). "You've got two big heavyweights, and the challenger wants what the champion has, and the champion wants to keep what he has.
"It's going to be interesting because we've seen Breazeale in a lot of wars. He's almost been taken out by some of the smaller heavyweights. He's been punched around, but he has always survived.  We've seen Joshua (get) busted up as well, but he has kept his composure, and this fight is in his backyard amongst his people."
It sounded like Wilder won't be surprised if Breazeale emerges victorious because, "I think he really wants it."