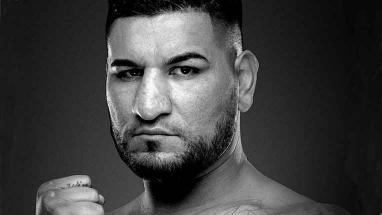 Chris Arreola/Photo courtesy of Premier Boxing Champions
Heavyweight champion Deontay Wilder (36-0, 35 KOs) will defend his title against Chris Arreola of Riverside on July 16 at Legacy Arena in Birmingham, Ala. (on Fox). The
defense is interesting because Arreola is 1-1-1 with a no-contest in his past four fights.
The no-contest came after Arreola defeated Travis Kauffman this past December in San Antonio, only to have the victory taken away when he tested positive for marijuana.
Arreola this week was taken to task on the pot test as well as the notion he does not deserve this shot.
"Let's just get this straight, man. It's a failed marijuana test," Arreola said during a conference call. "If you want to say that marijuana's a PED, then people are
(expletive) idiots. This is my opinion, OK? So, they want to take my win away over that, whatever, fine, take my win. I don't care.
"Do I deserve this title shot? No, I don't think I do."
To Arreola (36-4-1, 31 KOs), that means he should do all he can to take advantage of it.
"Everything I didn't do in the past, I'm doing," he said. "Everything that I wasn't supposed to do, I'm not doing it. So I'm doing everything I possibly can to win this fight. Everything. I've gotta leave everything in the ring."
Arreola has failed in two previous title shots, being stopped inside the distance by Vitali Klitschko and Bermane Stiverne.