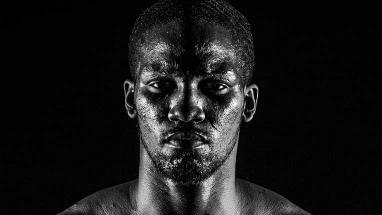 Domonique Dolton/Photo courtesy of Premier Boxing Champions
It's funny how opponents can have the same unflattering thoughts about one another.
Domonique Dolton and Justin DeLoach will square off Friday in the middleweight semi-main event from The Cosmopolitan in Las Vegas (on Bounce TV). In sizing up one another, each spoke as if the other isn't good enough to win.
"From what I saw, he looks like a tough guy," Dolton said. "We are not on the same level, though. He's fought a couple of undefeated guys, but it doesn't compare to my level of fighting. My skills will speak for me."
Said DeLoach: "This fight is not going all night. I will break him down early in the fight. I have been studying him and I know Domonique better than he knows himself."
Dolton, of Sterling Heights, Mich., is 17-0-1 with nine knockouts. DeLoach, of Augusta, Geo., is 15-1 with eight knockouts.
Their bout will come underneath the junior middleweight main event between Ishe Smith (28-8, 12 KOs) of Las Vegas and Frank Galarza (17-1-2, 11 KOs) of Brooklyn.