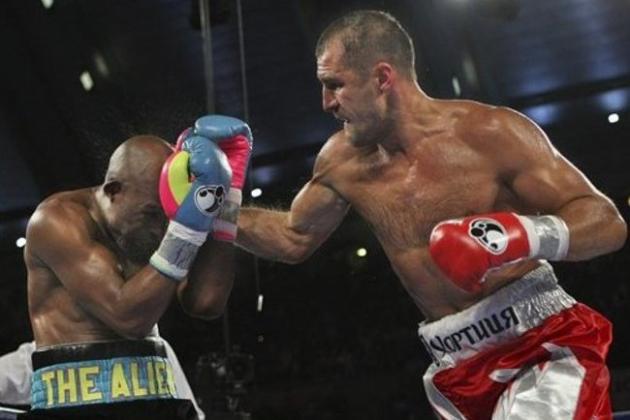 Sergey Kovalev lands a right hand to the head of Bernard Hopkins during their November 2014 fight won by Kovalev/Photo by Associated Press
Sergey Kovalev, the vicious light heavyweight champion from Russia, is unquestionably a top pound-for-pound fighter. He's No. 2 or No. 3, with Roman "Chocolatito" Gonzalez No. 1 and Gennady Golovkin either No. 2 or No. 3.
Kovalev on Nov. 19 will be defending his belts against Andre Ward at T-Mobile Arena in Las Vegas (on HBO pay-per-view). Since Ward is a top 5 pound-for-pound fighter, suffice to say that a victory for Kovalev would make his case stronger for being anointed No. 1. He wouldn't mind that a bit.
"When I was growing up in Russia, I did not hear these words 'pound- for-pound,' " Kovalev said. "Once I learned what this was I knew this was important. I am honored that people think I am the fighter that could get this title. It's important for me, for my career. I am champion in my division now, but I want to get all the belts and also I would like to be best pound-for-pound boxer in the world."
Kovalev, 33, is 30-0-1 with 26 knockouts. Ward, 32, is 30-0 with 15 knockouts.