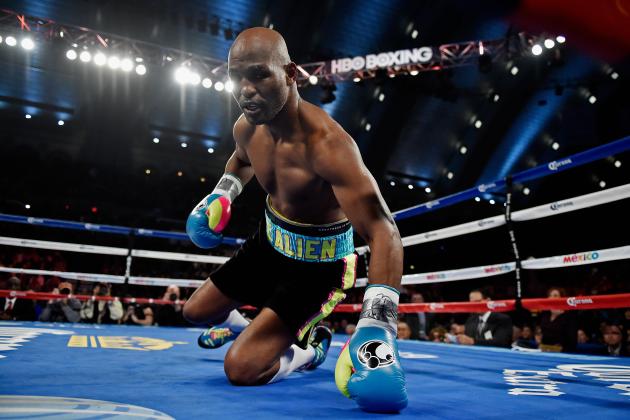 Bernard Hopkins hits the deck during his fight with Sergey Kovalev in 2014/Getty Images photo by Al Bello
Bernard Hopkins wants to go out with a bang, even if he is 51.
"On Dec. 17, I want to give a performance where you beg me to stay," Hopkins said during a recent conference call promoting his fight Saturday against light heavyweight contender Joe Smith Jr. at the Fabulous Fourm (on HBO). "And it's a challenge that Joe Smith will have to take on. For fighters to show their greatness, they need someone to bring it out.
"Timing is everything and I am doing it in my calculation. I proved a bunch of people wrong already. There is no stone that has not been unturned, meaning that when I look back, I would have done everything that I wanted to."
Hopkins (55-7-2, 32 KOs), one of the great middleweight champions of all time, is also a former light heavyweight champion. He hasn't fought since losing a very wide decision to Sergey Kovalev in a light heavyweight title-unification bout in November 2014. Hopkins was 49 at the time.
That means Hopkins will have been out of the ring for two years and a month when he steps in against Smith (22-1, 18 KOs), a top 10 fighter who is just 27.