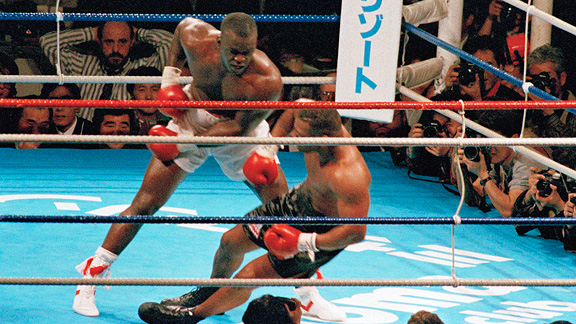 James "Buster" Douglas sends Mike Tyson crashing to the canvas 25 years ago in Tokyo, Japan/Photo by Associated Press
Twenty-five years ago today – Feb. 10, 1990 (Feb. 11 in Japan) – James "Buster" Douglas knocked out heavyweight champion Mike Tyson in the 10th round in Tokyo, Japan to shock the world in perhaps the biggest upset in history in a big fight.
Douglas survived an eighth-round knockdown to come back and sock it to Tyson in a way that will always be remembered.
If you want to see it again, or see it for the first time, tune in to ESPN2 tonight (Tuesday) at 11 p.m. to catch the replay.
Interestingly, Douglas lost the three belts he took from Tyson in his first defense when he was knocked out in the third round by Evander Holyfield on Oct. 25, 1990 in Las Vegas. Douglas never again fought for a major title