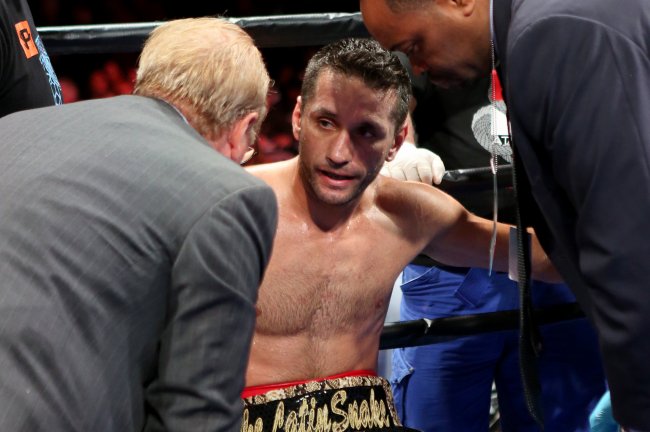 Sergio Mora sits on his stool after suffering an ankle injury in the second round of his August 2015 fight against middleweight champion Daniel Jacobs/Associated Press photo by Gregory Payan
Sergio Mora of Los Angeles has had a very nice career, considering he's never had much of a punch. Mora is 28-4-2 with only nine knockouts. But he did win a major world title when he took a stunning victory over Vernon Forrest in June 2008, losing the junior middleweight belt three months later in a rematch.
Mora didn't get another title shot until he took on Daniel Jacobs for a middleweight belt in August 2015, Jacobs winning a second-round TKO when Mora suffered an ankle injury.
Mora will take on Jacobs (31-1, 28 KOs) in a rematch next Friday from Santander Arena in Reading, Pa. (on Spike). It figures to be Mora's final chance at a second title.
"I'm not Bernard Hopkins," Mora said. "There's only special people that could fight in their mid-30s and so on and still be fighting the best. So even though … my body hasn't taken a beating, I've been in the game a long time. And the wear and tear from sparring and from running and from the dieting and from all the other stuff, all that takes effect."