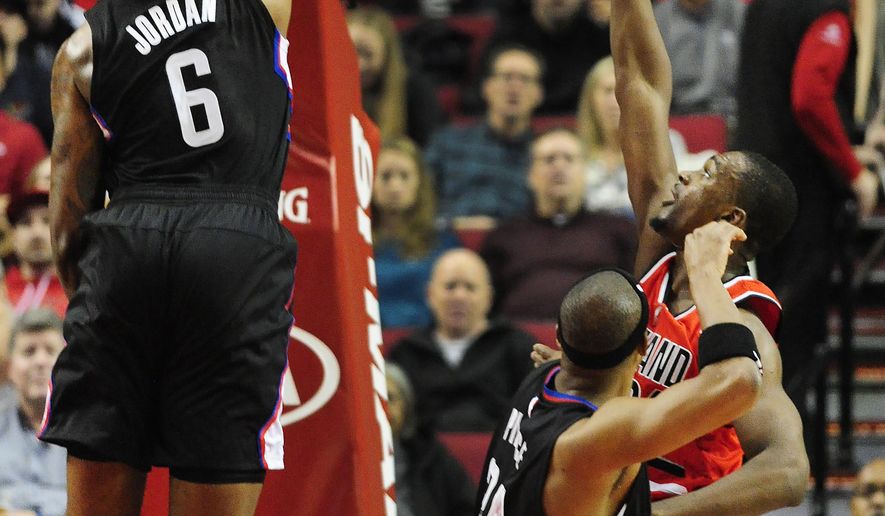 DeAndre Jordan of the Clippers, 6, blocks the shot or Portland's Maurice Harkless during the first half of the Clippers' 109-98 victory Wednesday night at Portland/AP photo by Steve Sykes
– The Clippers (23-13) have now won seven consecutive games. The past six of those victories have come without the services of leading scorer Blake Griffin (partially torn left quad tendon). Impressive, to be sure.
– Chris Paul had a terrific game. He not only led the Clippers with 21 points, but he doled out 19 assists. His career-high is 21, accomplished in a Nov. 6, 2007 game against the Lakers when he was with New Orleans/Oklahoma City.
– DeAndre Jordan scored 14 points and pulled down 14 rebounds for his sixth consecutive double-double, the longest active streak in the league.
– Thirty-eight-year-old Paul Pierce came through with 17 points and made 5 of 6 from 3-point range. Over his past three games, Pierce is shooting 56.2 percent (9 of 16) from beyond the arc.
– Reserve guard Austin Rivers scored 16 points on 7 of 10 from the field. Over his previous four games he has scored 22, 9, 26 and 16 points on 28 of 46 (60.8 percent) – 11 of 17 (64.7 percent) from 3-point range. Rivers was 2 of 2 from long-distance in this game, and the Clippers shot 47.8 (11 of 23) overall from there.