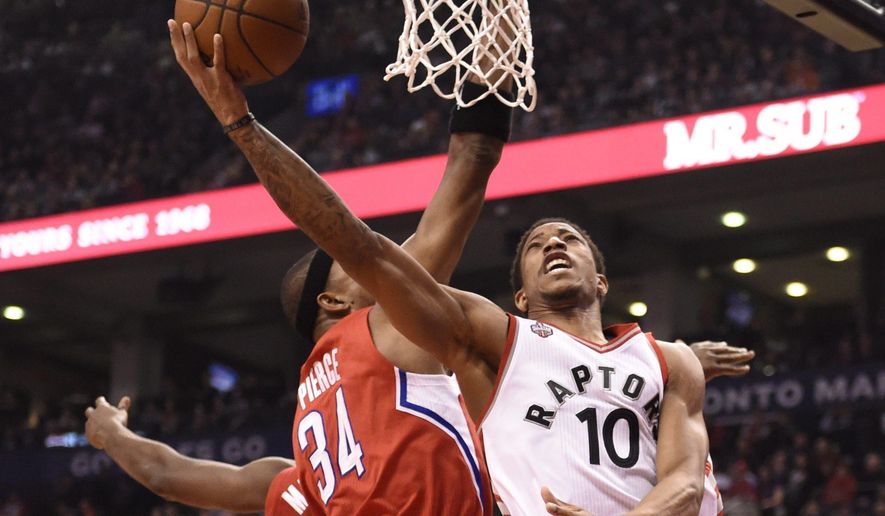 DeMar DeRozan drives to the basket against the Clippers' Paul Pierce in Sunday's game at Toronto/AP photo by Frank Gunn
There was a lot of talk about how poorly the Clippers' bench played during a 112-94 loss at Toronto on Sunday. Coach Doc Rivers said of his reserves, "They were awful."
But starting shooting guard J.J. Redick was quick to remind reporters that the bench has been rather solid of late.
"It's a team sport," he said. "There are nights where our bench unit has been great and extended leads,  and times where we've gone into the fourth quarter up single digits and not had to play the fourth quarter, so they've done a great job for us lately and there are going to be nights like this. It just felt like one of those nights where none of them could really find that rhythm or fight to get that unit going."
Lance Stephenson shot 4 of 4 and Austin Rivers shot 4 of 8. But Jamal Crawford was 1 of 6 from the field and Wesley Johnson was 2 of 7, all seven of his field-goal attempts coming from 3-point range.
The second unit also had nine of the team's 13 turnovers, with Austin Rivers and Pablo Prigioni making three a piece. Prigioni only played a little over eight minutes.