The Red Sox know they caught a break over the weekend, just like the Chicago Cubs know they will not in the coming days.
Clayton Kershaw and Zack Greinke never threw a pitch for the Dodgers against the Red Sox. That's a huge reason why the Dodgers dropped a series for the first time in two months. The way the Dodgers' aces have been pitching lately, avoiding Kershaw and Greinke is like playing the Chicago Bulls between 1990 and 1993 on a night when Michael Jordan and Scottie Pippen were both hurt. (That never happened, for the record.)
After the Red Sox won the final game of the series Sunday — the Dodgers' first series loss in more than two months — manager John Farrell complimented the performance of his starting pitchers. Jake Peavy threw a complete game Sunday, John Lackey threw a complete game Friday in a loss, and Jon Lester won the middle game with 7 ⅓ strong innings.
"The credit to our team is that we've stayed consistent, and the only way you can stay consistent is starting pitching and those guys have done it," Farrell said. "Those guys have done a really good job. Even when a guy has a bad outing, the next guy picks him up."
If that were Mattingly talking about the Dodgers' staff, no one would be surprised.
Farrell also knows that it's a double-edged sword, that he dodged a bullet by missing Kershaw and Greinke. Greinke, who starts against the Cubs tonight, has the majors' lowest ERA since the All-Star break (1.41). Kershaw has the lowest ERA overall this season (1.72).
"Those are two very good pitchers, in those two guys," Farrell said. "It's just how the schedule unfolded."
Meanwhile, MLB.com asked Cubs manager Dale Sveum about seeing Greinke and Kershaw the next two nights. His response: "Why did you have to bring that up? Let's talk about something else."
OK. Let's:

• What happens when Matt Kemp returns and the Dodgers' three starting outfielders are healthy? Someone gets angry every night, that's what.
• FoxSports.com, citing unnamed sources, writes that Kershaw's agent and the Dodgers haven't talked for months about a contract extension.
• Kershaw's high school catcher doesn't know who he'd root for in a Dodgers-Tigers World Series. (Spoiler: Detroit Lions quarterback Matthew Stafford was Kershaw's high school catcher.)
• Remember how the Angels were supposed to fire Mike Scioscia, and he was going to manage the Dodgers once Don Mattingly was fired? USA Today recalls the good old days.
• ESPN tweeted this neat montage of Yasiel Puig nicknames, none of which I've ever used: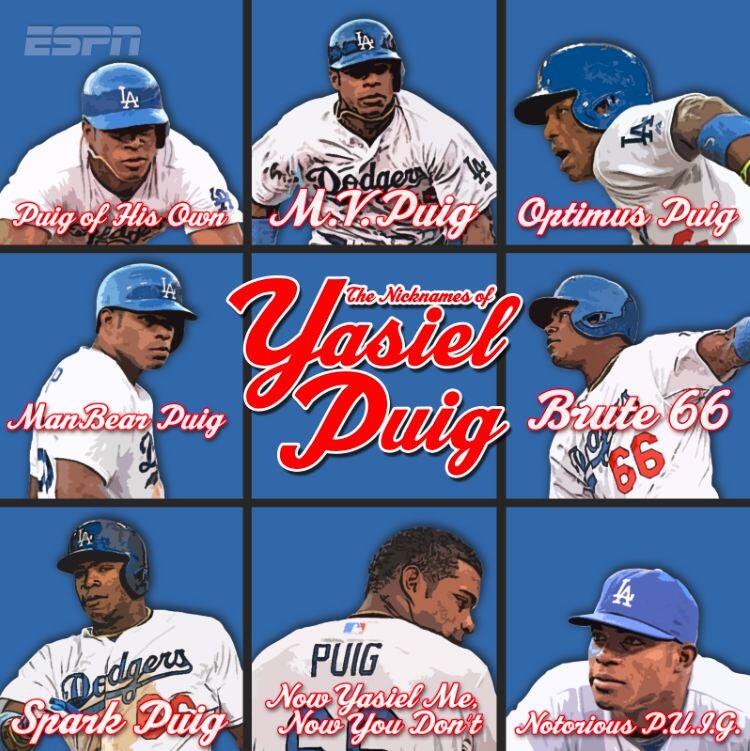 • If you like Puig, this Buzzfeed list will piss you off.
• True story via ESPNBoston.com: In 2010, President Obama talked to Clippers coach Doc Rivers on Stan Kasten's cell phone.
• The wailing saxophone at the beginning of "Shoot Your Shot" by Junior Walker and the All-Stars was sampled by House of Pain in their anthemic hip-hop track "Jump Around." The gentleman sitting next to me in the press box last night said his father likened the sound of the sax sample to that of a horse being grabbed in the testicles. Enjoy: