Given the newly created title of defensive coordinator today by Detroit Tigers manager Brad Ausmus, Martin has strong ties to the Dodgers organization, but is unknown to the casual major-league fan. That's because he spent 18 years as a minor-league coach, including five years as the Dodgers' minor-league infield coordinator (2007-11), and one year (2012) as the coordinator of Arizona instruction at Camelback Ranch and manager of the Arizona Fall League Dodgers.
De Jon Watson, the Dodgers' vice president of player development, called Martin "an extremely hard worker" who is "really sound on infield defense."
"Matt's bilingual and he's worked his tail off to be fluent in Spanish," Watson said. "He really has a good rapport with most of the players I've worked with."
Young players were Martin's specialty. When the Dodgers moved to Camelback Ranch, "we wanted a strong entry-level teacher who can walk these guys through the daily grind, preparation, how to know the uniform," Watson said. "It was a teaching position."
Why did it take Martin so long to get a major-league job? Watson couldn't say.
Gabe Kapler, who worked with Martin while in Dodgers camp in 2011, indulged his theory in a recent article for BaseballProspectus.com:
Partially because he's different and opinionated, and because baseball is notorious for disliking both attributes. His appearance and teaching style are drastically divergent from the MLB cultural norm. In a world where conformity feels safe, Matt can come off as threatening—not in the least to players, but certainly to other staff members.
When he disagrees with you, he will let you know, no matter who you are. Sometimes without filter and often times when he shouldn't. Sugarcoating doesn't sit well with him. He views it as disingenuous.
"Matt will give his honest opinion, even if he stands alone," (Dodgers manager Don) Mattingly told me.
Standing alone, it turns out, is not conducive to ladder climbing.
Mattingly also told Kapler that Martin is known for his loyalty. Watson said the same thing.
Martin parted amicably with the Dodgers to become the Baltimore Orioles' minor league infield/Latin American field coordinator last year. Climbing the next rung on the ladder, in any business, is often about who you know, and Ausmus and Martin knew each other from Ausmus' brief time in the Dodgers' organization.
It's a slow baseball news day, yes. Also a good time to flesh out the interesting back stories that don't often get told.
Some bullet points for a Latvian Independence Day:

• The Dominican Winter League rolls on, but Alexander Guerrero hasn't played a game in six days. He told a Dominican website why; a translation can be found here.
• That the Rockies missed on signing Carlos Ruiz and Jose Abreu only makes it seem more likely that they will pursue Brian Wilson.
• This scout's evaluation of Corey Seager paints a picture of a tired player with limited bat speed.
• On this day in 1949, Jackie Robinson won the National League Most Valuable Player Award. The New York Times' lede: "Jackie Robinson, first Negro ever to play baseball in the major leagues, not to mention appearing in a world series, yesterday gained the added distinction of becoming the first of his race to win a most valuable player award."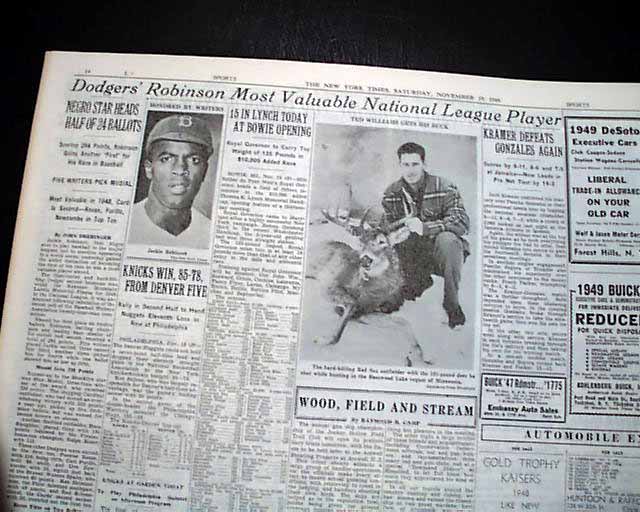 • Tim Hudson is close to signing with the San Francisco Giants.
• The Chicago Cubs' new manager interviewed in sweat pants. He had a good excuse.
• Happy birthday to Gary Sheffield (45) and Wilkin Ruan (35).
• At their best, Midlake makes timeless rock music. Their new album, Antiphon, represents an overdue turn to the electronic (think OK Computer-era Radiohead — a mind-blowing 16 years ago) while still referencing their past. "Ages" has a sort of Pink Floyd-meets-Tame Impala vibe, which spans five decades. That's as close to timeless as music gets these days:
Matt Martin took the long way to the major leagues.