This is a photo of Teemu Selanne holding his stick (from last Friday):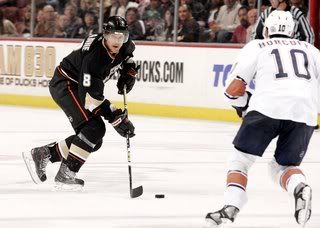 Apparently, Edmonton head coach Craig MacTavish thought it might have been a little too long tonight. So long, in fact, he had linesman Kerry Fraser skate over and measure it with 2:11 left in tonight's game and his Oilers crawling out from a 4-3 deficit.
Selanne's stick was just long enough to notch an assist in Edmonton, but not long enough to warrant a penalty. MacTavish's MacMove backfired, and the Ducks got an empty-net goal from Rob Niedermayer to win 5-3, their seventh victory in their past eight games.
The one loss came at the hands of Edmonton in Anaheim last Friday, a heartbreaker that knocked the Ducks out of the West's Top 8. They're back in (tied for eighth place) and Edmonton is still out, thanks in part to MacTavish's unorthodox call. Niedermayer added an even-strength goal, as did Sheldon Brookbank, and Scott Niedermayer and Chris Pronger scored power-play goals for the Ducks.
Jonas Hiller was outstanding in goal before Edmonton scored twice trailing 4-1, on goals by Denis Grebeshkov and Zach Stortini, with 3:27 and 2:21 left in the third, respectively. Hiller finished with 28 saves.
The Ducks are in Vancouver on Thursday, then get the privilege of a home-and-home against the Sharks on Saturday and Sunday.
Game summary here; event summary here; quotes to follow.