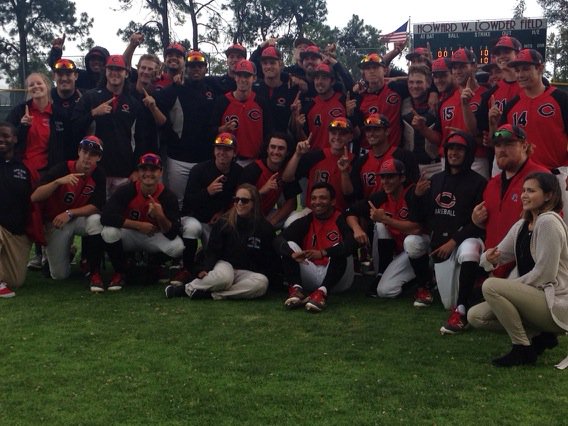 The Chaffey College baseball team has drawn the No. 7 seed and will open the Southern California Region of the playoffs with a best-of-3 series at home against No. 10 College of the Canyons.
The first game is slated for 2 p.m. on Friday with the second game Saturday at 11 a.m. The decisive game would follow 30 minutes later.
Chaffey (27-9) clinched the Foothill Conference on Thursday with a win over rival San Bernardino Valley College.
Canyons (28-8) was the third-place finished of the Western States-South Conference.
Chaffey coach Jeff Harlow doesn't see his team as the favorite though.
"There really isn't that much difference between a 7 and a 10," he said. "Their conference was probably a little better and they had a better RPI so we're gong to have to play well. We're not taking anything for granted."
Harlow said sophomore left-hander Daniel Honorof will start the first game. He went the distance on the mound in last week's conference title-clinching game. Freshman right-hander Isaiah Haro, a product of Bonita High School, will start the second game.
Sophomore Kevin Riley (Los Osos) is the team's top hitter at .410 with 46 RBIs. He is followed closely by sophomore infielder Cody Palmer (.383, 32 RBIs) and freshman catcher Logan Gopperton (.377, 24 RBIs).
Canyons boasts one of the state's best offenses in the state with freshman Chad Bible hitting .392 and boasting 15 home rums and 59 RBIs in 36 games. Freshman catcher Anthony Lepre is hitting .409 with 13 home runs and 45 RBIs.
The Cougars are hitting .353 as a team and have seven players with 25 RBIs or more.