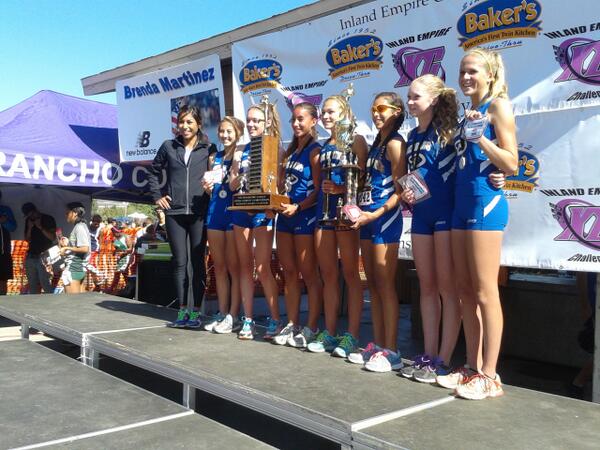 One of the major cross country meets of the season took place today at Glen Helen Regional Park. It was the annual Inland Empire Challenge, featuring the best of San Bernardino and Riverside counties.
So it was only appropriate that Rancho Cucamonga native Brenda Martinez was a star attraction. Martinez became the first American women ever to win a medal in the 800 meters at the World Championships when she got the bronze in August.
For more than four hours she signed autographs. We have all been to celebrity autograph cattle call signings. You're lucky if the person looks up while quickly scribbling their name. Not only did Brenda sign, she personalized every one of them, even making sure she had the proper spelling of their first name. She talked to each of the 1,000 or so people in line and also obliged every person that wanted their photo taken with her.
The only break she took was when she had to jump up on the makeshift stage to help present awards.
The cute moment of the day came when runner Steven Cabral of San Jacinto asked if he could give her a kiss. She glanced over at husband Carlos who gave her the go ahead. She let the upstart runner give her a peck on the cheek.
On the table next to her, a monitor with the video of her 800 meter race at Worlds ran on a loop so all could see her impressive performance. Many seemed in awe of her great kick that helped her nudge out a fellow American for the bronze.
It's great not only to have an athlete from the Inland Empire represent on the international stage, but one who wants to step up and be a role model and inspire, particularly the Hispanic community.