Etiwanda senior defensive back Treyjohn Butler is one of the area's top recruits this season. He has eight offers, six of those from Pac-12 schools, and just returned from a trip to Cal.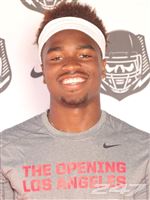 He says he benefited greatly from watching some highly touted teammates go through the process last year.
"It definitely helped to see how they handled it all last year. Everyone is different," he said. "We had a lot of college scouts out there watching us because of the guys we had last year so I kind of got used to that part of it."
Butler also has offers from Stanford, Washington, Arizona State, Washington State, Illinois and Northwestern.
He has also taken unofficials to Stanford, USC and UCLA.
He hasn't quite decided which schools to which he will make official visits but expects two of those to be to Northwestern and Washington.
He plans to major in chemical engineering so academics will factor into his final decision.
"I am going to do what's best for my future," he said. "Yes it's about football but it's also about more than that and what will be best for me down the road."
He is also looking forward to his senior year and the Eagles making a run after settling for a fourth-place finish in the Baseline League a year ago. New coach Kevin Davis has brought a new energy.
"It's a whole different aura I guess you can call it," he said. "We're all excited and we're already very close. It's like a family."