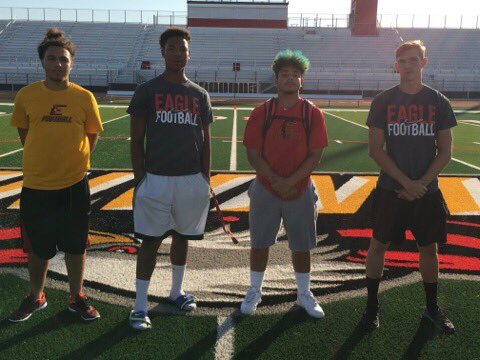 The Etiwanda football team was in transition last under first year head coach Kevin Davis and the Eagles dealt with the expecting growing pains in finishing 3-7.
Well the Eagles graduated 29 players so they're still going to be a team in transition. Making matters a little more difficult, Etiwanda opens its season on Friday against a Summit team that went 10-0 in the regular season a year ago.
"We're young, both in terms of age and experience," Davis said. "We have some good young players but we're young and untested."
Davis said the bright spot so far, although there has yet to be a snap in the regular season, has been the running back core led by junior Lawrence Starks who saw playing time last year as a sophomore on varsity.
Others who will contribute there include junior A.J. Williams and senior Kasmir Dina, neither of whom played last season.
"Those guys all have looked good," Davis said. "We're going to need all of them so that was a positive sign."
The quarterback nod has gone to junior Tommy McDonnell, who won a tough competition with senior Justin Hamel, with whom he split time on the junior varsity last season.
The group looking to pave the way for those athletes is led by senior left tackle Chris Bradberry, junior right tackle Alec Anderson and senior right guard Ryan Hanson.
The receiving core is led by senior Evan Gutierrez. Davis also got a transfer in Geordan Porter,  who came over from Upland and is younger brother for Upland graduate Grant Porter.
The Eagles inexperience shows up more on defense where the long players with any experience are senior defensive end Nate Neal,  senior lineman Kyle Edwards and junior corner Andre Grayson.
Davis is also high on newcomers senior linebacker Connor Sweeney and senior defensive back L.J. Bailey, both up from the junior varsity.
"We have a tough schedule so we're going to have to grow up quickly," Davis said. "We don't have any easy games. Hopefully by the time we get to league play we'll be ready."