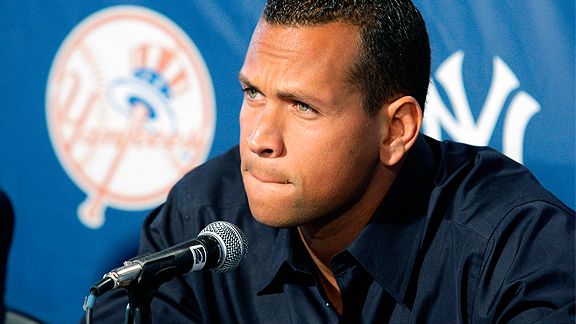 Anybody catch the A-Rod press conference? Mike Vaccaro of the New York Post asked a very good question: Why if you didn't think what you were taking was wrong, why were you so secretive and so reluctant to ask about proper procedure during the 2001-03 seasons? Rodriguez paused for a while before answering: "That's a good question. I knew what we were taking weren't Tic-Tacs. I knew that it was, potentially could be something that perhaps was wrong." Was Alex Rodriguez credible at today's press conference?
TAMPA, Fla. — Alex Rodriguez expanded on his admission last week that he used a banned substance earlier this decade, saying a cousin injected him with an over-the-counter drug designed to give an "energy boost."
The New York Yankees star third baseman said using the banned drug that he said he obtained from the Dominican Republic was a "stupid mistake."
"I knew we weren't taking Tic Tacs," Rodriguez said.
Ready to ask questions — many questions — were the 150-200 reporters on hand at Steinbrenner Field, where satellite trucks for live transmissions already were set up at dawn. At the outset of the news conference, Rodriguez said he was "a lot nervous" and quickly added he understands the long road ahead toward earning back others' trust in him.
Sports Illustrated broke the story on its Web site Feb. 7 that Rodriguez tested positive for a pair of steroids during baseball's anonymous survey in 2003. Two days later, baseball's highest-paid player acknowledged that fact in an interview with ESPN.

The three-time AL MVP started his news conference by reading from a prepared statement. At the end, he paused for 37 seconds to collect himself, turned to his teammates and simply said "thank you." Sitting in the front row were Derek Jeter, Andy Pettitte, Mariano Rivera and Jorge Posada.
The third baseman said a cousin of his injected him with a banned substance in 2001, 2002 and 2003. He said his decision to use what he called an "energy boosting" drug was purely ignorant..
"We consulted no one. It was pretty evident that we didn't know what we were doing," Rodriguez said.
The drug-related apology has become a near-annual February rite for the Yankees.
Jason Giambi gave an ambiguous one at Yankee Stadium on the eve of spring training in 2005.
Pettitte gave an emotional and lengthy one when he arrived at spring training last year.
Tuesday, it was Rodriguez's turn.
"Spring training represents a new start to me," he said.
For years, Rodriguez denied using performance-enhancing drugs. But SI reported he was on a list of 104 players who tested positive during the '03 survey. SI identified the drugs causing the positive test as Primobolan and testosterone.
The survey was to remain anonymous, but federal agents seized the records and samples from baseball's contractors in April 2004 during raids in connection with the BALCO probe in San Francisco. Although the agents originally had search warrants for the records of 10 players, they discovered the broader records and came back with additional search warrants.
The list of players is under seal, but those seizures remain in dispute. The 9th U.S. Circuit Court of Appeals currently considering the government's appeal to overturn lower-court decisions in favor of the union.
Where Rodriguez broke new ground Tuesday was with his admission, which separates himself from others — Barry Bonds, Mark McGwire, Sammy Sosa among them — ensnared in the haze of the steroids era. Rodriguez also is the first first-ballot-type Hall of Famer to acknowledge using performance-enhancing substances.
The stakes are higher, too, because Rodriguez is 12th on the career home run list with 553 and trails leader Bonds by 209.
Rodriguez acknowledged speaking privately last week with Selena Roberts, a co-author of the SI report, and offering an apology after saying in his interview with ESPN that Roberts stalked him and tried to break into his home while his two daughters were sleeping.
Information from The Associated Press was used in this report.