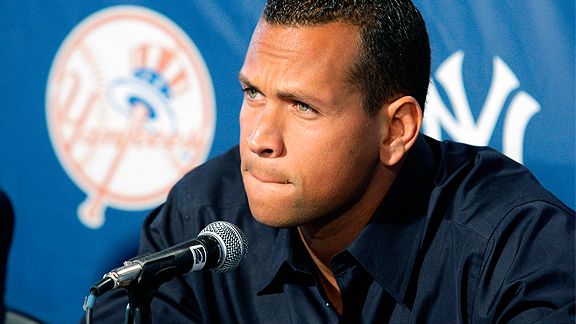 Anybody catch the A-Rod press conference? Mike Vaccaro of the New York Post asked a very good question: Why if you didn't think what you were taking was wrong, why were you so secretive and so reluctant to ask about proper procedure during the 2001-03 seasons? Rodriguez paused for a while before answering: "That's a good question. I knew what we were taking weren't Tic-Tacs. I knew that it was, potentially could be something that perhaps was wrong." Was Alex Rodriguez credible at today's press conference?
TAMPA, Fla. — Alex Rodriguez expanded on his admission last week that he used a banned substance earlier this decade, saying a cousin injected him with an over-the-counter drug designed to give an "energy boost."
The New York Yankees star third baseman said using the banned drug that he said he obtained from the Dominican Republic was a "stupid mistake."
"I knew we weren't taking Tic Tacs," Rodriguez said.
Ready to ask questions — many questions — were the 150-200 reporters on hand at Steinbrenner Field, where satellite trucks for live transmissions already were set up at dawn. At the outset of the news conference, Rodriguez said he was "a lot nervous" and quickly added he understands the long road ahead toward earning back others' trust in him.
Sports Illustrated broke the story on its Web site Feb. 7 that Rodriguez tested positive for a pair of steroids during baseball's anonymous survey in 2003. Two days later, baseball's highest-paid player acknowledged that fact in an interview with ESPN.
Continue reading →