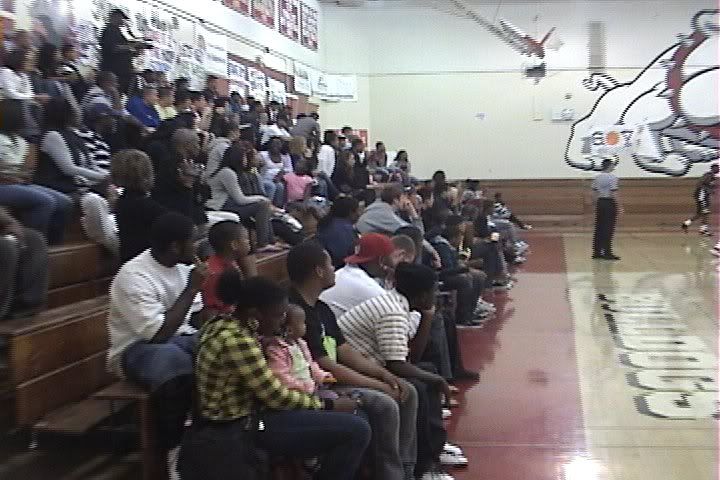 Though a few proms, a Lakers playoff game, a few travel ball tournaments, and one other All-Star Game kept a some away Saturday night, the 400 folks that showed up to support "Coaches vs. Cancer", Steven Adams, and the first Rio/Pac All-Star Game was a huge success. Co-founders Gamal Smalley and Tim Tucker would like to thank everyone who came out and volunteered their time including public address announcer, radio personality, Roland Bynum from 102.3 KJLH, the officials, all the camera men and coaches. "To see Steve Adams smiling with the fans posing for pictures and having a good time was especially rewarding for me, knowing that just a few months ago he was in serious condition after undergoing major surgery for a brain mass," Smalley said. Buckley High girls basketball coach Byrd Milic stopped by to show his support, too. Coach Milic's 12 year old daughter was staying a few rooms down from Adams in the Children's Hospital, battling cancer. A special "Life Time Achievement Award" was made to coach Tom Holfman celebrating his 500 career wins and dedication to coaching over a 23-year span at La Canada High. "My heart was overflowed with joy as our surrounding communities showed a loving spirit with donations, goodwill, fun sportsmanship, and we even had two great ball games," Smalley said. "Thanks to the Star-News for (their) support, for you really made this effort a success."
FINAL SCORES
Pacific Girls 78, Rio Hondo Girls 59 — Pacific leading scorer Anna Shahinian (Glendale) 20 points; Lidia Rivas (Glendale) 20. Rio Hondo leading scorer Nicol Biesek (South Pasadena) 26 points.
Pacific Boys 108, Rio Hondo Boys 103 — Pacific leading scorer Joe Henson (Pasadena)17 points; Deon Geary (Blair) 26, MVP honors.