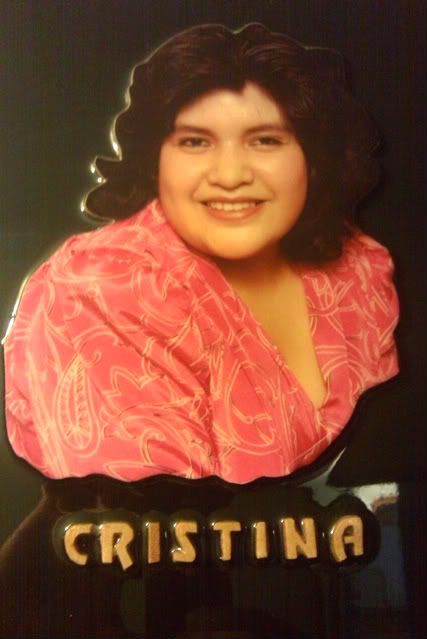 Avid readers of this blog know how special I think my mom is. As a single mother through most of my childhood she did everything she could to make sure I'd make something of my life, and she set the example by working hard. As a kid, I witnessed her courage during a seemingly-bleak period of our life. It didn't matter that we were homeless or that she almost died after a truck ran her down and dragged her a few blocks. She was never one to let us feel bad for ourselves and insisted on surrounding ourselves by strong, smart and positive people. Her advice, I feel, has paid dividends. I'm lucky enough to still have her around and strong as ever. She's 42-years young and anxiously waits for her first grandchild. I'll let my brother and sisters handle that. As I type this my heart goes out to Karen Bell, mother of St. Francis goalkeeper Jordan Bell, whose son died in his sleep last August. I'm also reminded of Pasadena basketball coach Tim Tucker whose mother abruptly died last Thanksgiving after losing her short battle with pancreatic canter. Today happens to be Tucker's birthday, too. On this special day I bid everyone a happy Mother's Day. I leave you with a column I wrote last Mother's Day while working as a reporter at The Orange County Register. Some of you have read it but for those who haven't will have a better understanding of where I come from and why I hold all mothers, especially single mothers, in high regard. Enjoy.
=============================================
By MIGUEL A. MELENDEZ
The Orange County Register
Mother's Day has come and gone.
I've become more appreciative of my mother, Cristina, who through my childhood raised me and my older brother and younger sister as a single parent.
She raised us the best she could. She doesn't know it, and neither did I until recently, but she's the reason I became a sportswriter.
For a while I didn't know how it was I became a sports fan.
Before my father left when I was 3, I didn't remember him being into sports, and my brother didn't really get into sports until Michael Jordan started winning a few rings.
I claim to have become a Dodgers fan at age 5 but I don't really remember following them until eighth grade. My mother said she, like all Latinos at the time, followed Fernandomania, but I don't remember.
(Apologies to Fernando Valenzuela, with whom I've had the pleasure to have lunch while on assignment with the Dodgers.)
We were poor and at one point even homeless. I vividly remember the day we all got dressed up and went to McDonald's for the first time. We even took a picture, posing with the drive-thru sign. I get emotional when I pass by the McDonald's on Alvarado and Olympic.
As a poor kid living in a gang-infested neighborhood (just a block away from where Staples Center now is), the opportunity to play organized sports was not there.
So I relished playing and being good at kick ball, especially when I learned how to catch.
I spent a lot of time running away from bullies, climbing fences or riding my bike as fast as I could to avoid confrontations with the neighborhood hooligans who had nothing better to do than torture me and my brother.
CLICK ON THREAD TO CONTINUE READING

Though my mom was rarely ever home, working two jobs, she did steer us to the Salvation Army, located just a few blocks away from our apartment. I remember playing a lot of pool and swimming in the pool.
My mom also signed us up for "L.A.'s Best", an after-school program for underprivileged kids who wanted free tutoring and enjoyed other activities.
Kick ball was the sport I loved most about the program. The string cheese snacks during breaks were awesome, too.
We played a lot of handball there, too, and I remember a stint in gymnastics. (Sorry for the mental picture)
As the years went on and our family grew (my mom married and gave us two younger sisters, one of whom just completed her freshman season in basketball and went 7-3), sports became a part of my life.
I started reading newspapers and collecting my favorites. I still have them at my mom's house. Piles and piles of newspapers neatly folded into drawers. My mom hated that I collected them but she never threw them away.
I always bought the newspaper at a newsstand every morning before school and also on Saturdays. I never could afford the $1.25 price on Sundays so I rarely read the sports section that day. I never admitted this to my mom but I was the one who secretly agreed to free trials to the Los Angeles Times.
As a kid, we moved a lot. I went to eight different elementary schools. Alhambra High School was the only school where I actually started and finished. So for me, reading the newspaper was like having a buddy always around. I wasn't afraid being alone at a new school. I always had my sports section.
My mom objected to my involvement in extracurricular activities in high school. You have to understand that in a traditional Mexican family it wasn't OK to spend time in the jazz band and marching band when I could instead be working or at home doing chores.
Every year my mom threatened to pull me out of marching band. She never did. Joining football was out of the question. I didn't join until my senior year.
During hell week we had two-a-days. One time I saw my mom driving around the football field looking for me. I couldn't believe the woman who objected my joining the team suddenly wanted to give me some fresh fruit, water and food. But that's what mothers do.
Just a few years ago, my mother apologized for being so hard on me. Like when she made me walk home from school on Fridays to mow the lawn if I wanted to be at the game later that night.
She apologized for forcing me to work at 15, having to earn enough money to pay for equipment and school trips. She apologized for not fully supporting me when I told her I wanted to be a sportswriter. I was 17 at the time and she thought getting paid $25 per story wasn't worth having my byline in the Pasadena Star-News sports page.
Things now are different. I'm the kid who "made it," according to my friends. I easily could have ended up in a gang and on the streets. And though my mother wasn't physically around to help us, her presence always was felt through her efforts to keep us busy after school.
I didn't know how big of a role sports would play in my life. Neither did my mom.
So what do you give to a mother who helped you build thick skin and taught you never take no for an answer?
What to give to a mother who stayed up late waiting for you to get home after covering your first few football games, getting home way past deadline?
What do you give to a mother who showed off your clips in the sports page to her friends and even strangers?
What do you give to a mother who now proudly says her son is a sportswriter?
I wasn't sure. I thought it long and through as ideas flowed in and out.
And then it hit me.
This.
Copyright 2008 Orange County Register Communications