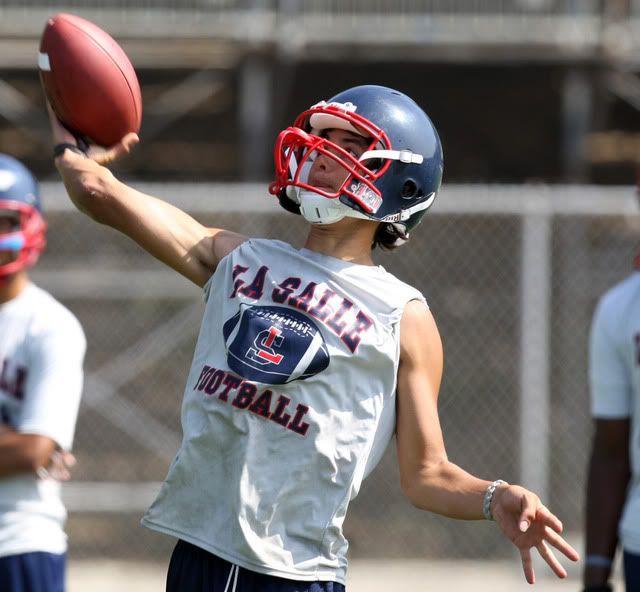 As coaches call back to give me the low down I'll be posting here with the latest information on your favorite teams. Here's La Salle …
Antoine Peterson was probably hired too late last season in terms of not having time to install his own summer and offseason program. Then, the season began and the Lancers' roster was depleted with injuries. The fallout led to Chase Rettig's transferring to San Clemente High and a shakeup in the coaching ranks (Eddie Howard, special teams coach, and Pat Walker, offensive coordinator, are the only returning coaches).
Now's the time for the Lancers faithful to forget the 1-9 season.
Fall camp started today and the final two-a-days end Saturday with afternoon workouts beginning Monday.
Peterson has turned the leaf and said his staff and players are all now on the same page, which clearly wasn't the case last season.
Case in point: Chase Rettig was the only player taking snaps last season even during practice. Had he gone down with an injury there would have been no viable backup with the necessary reps. Sure, Kishon Sanders was designated the backup quarterback but never took a snap.
This season, four quarterbacks have taken plenty of snaps, and so far junior Will Harriety and sophomore Mike Novell are neck-in-neck for the starting spot. Mike Alexander is probably the third QB with Kishon Sanders also available if needed; he took most of the spring snaps.
This clearly is a different scenario from last year when the offensive coordinator limited snaps to Rettig.
Pat Walker, secondary coach last year, was promoted to offensive coordinator this season. In having a four-player rotation at quarterback Walker is giving the Lancers depth at a key position.
The coaching staff is all brand new this season (Ed Ramirez, defensive coordinator; Robert Maxie, wide receivers coach; Harold Johnson, running backs coach; Casey Hilland, offensive line coach; and David Shaw, offensive line coach) and the Lancers will look just as different on the field.
Gone is the spread offense Rettig was supposed to thrive in last year. In comes a balanced attack in an effort to rid the predictability La Salle fell victim to last season.
On paper, the Lancers look like a formidable team that's back with vengance on its mind.
They return 14 starters from last year's team and its entire offensive line, including Andrew Pankow (6'3, 270 pounds) who is drawing interest from a score of small schools and some major Division I programs. He's taken a trip to Penn State.
With a revamped staff and an energized team, expect the Lancers to make a run for the Camino Real League championship and a sure spot in the playoffs.
How this year's Maranatha-La Salle game will match last year's epic battle is uncertain, but expect a battle from start to end for supremecy among two small school powers.
I wonder if La Salle will have In-N-Out …