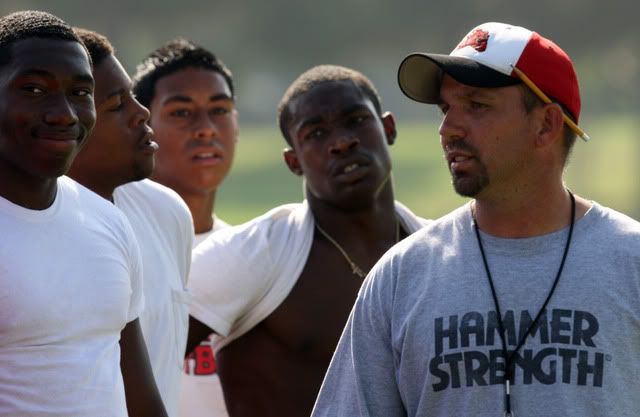 Above: Pasadena football coach Mike McFarland, far right, with some of his players during Tuesday's practice. (Keith Birmingham /Staff photographer)
What's to make of Pasadena this season? The morale hasn't been the best at a school more known for its boys basketball team than anything else. Despite the strong fan base, the football team has generated very little interest among football fans in the West San Gabriel Valley. Yet, when Kevin Mills resigned last year, the PHS job became one of the more coveted jobs in the Southland because of what it can represent.
Mike McFarland has journeyed from Missouri. Call him the prodigal son, returning to his roots where it all began: The West San Gabriel Valley.
The Arcadia alum is battling with Pasadena's past: its lack of continuity, success and passion. It's why McFarland won't define the Bulldogs' success by wins or losses. It's about taking the necessary steps to improve each day. It starts with the little details first before making grand aspirations.
In talking to McFarland on Tuesday during a 40-minute interview you easily sense the passion, determination and willingness to lift up the program to where it once was.
It's what gives Pasadena more than a great shot to battle the Muirs and Arcadias. Perhaps not this season just yet, but definitely sooner rather than later.
"My motto with this team is to improve every day," McFarland said. "We just take it one day at a time and we'll look for ways to improve. I'm not worried about wins and losses. We feel we have enough talent to be very competitive.
"My ultimate goal for this team is that we play good football and put a good product on the field and compete at a very high level. The wins and losses shake out after that."
Pasadena doesn't have the J'Quan Hamilton to quarterback the offense. In fact, the Bulldogs will be a run-friendly team this season with senior Nick Escoe and sophomore Cleo Bates Jr. battling for time in the backfield. For those with a sense of history, Cleo Bates is the son of the great Cleo Bates Sr., a PHS running back in the 80's and then went on to play at Colorado. Bates Jr. is a lanky (6-foot-1) speedster with the ability to take the ball the distance. PHS returns eight starters from last year's team, including lineman Anthony Boykins.
"The first thing we have to get really good at what we can do well," McFarland said. "We have to be able to execute a well-rounded scheme that has answers within it for different ways we can be defended. Offensively we have to present a scheme that a defense has to account for multiple ways it can be attacked. It can't just be three plays, line up and run it.
"Through formations and personnel adjustments we have to have ways to come back so a defense can't just line up and play us. Our scheme needs to be flexible enough that we can take advantage if a line wants to stack the box. We will have the ability to have a little bit of a spread dimension and spread the field and take advantage of the defense if they don't adjust."
Still, there are battles within the program McFarland is addressing first, which is why there are no bold expectations this season.
"There's ups and downs," he said. "We've battled demons here for the first few months with kids in terms of consistency not only in the past and maybe past disappointments, but I can't put it all on it. I can just go on what what I've seen since I've been here.
"A lot of times when there's not a level of success that has been achieved the passion isn't there. It's human nature, not just in sports. If you're not being successful people don't get excited. It's the most important thing, to generate that passion. The passion comes when players start seeing themselves successful. When they know things are headed int he right direction and feel themselves the player they want to become, then you start to get guys with passion.
"We're still in the building process and get this thing going at a consistent level. What we as coaches have talked about is our players need to get closer to success and see it and feel it, and when that happens that's when you start to get more of a buy-in from your players."