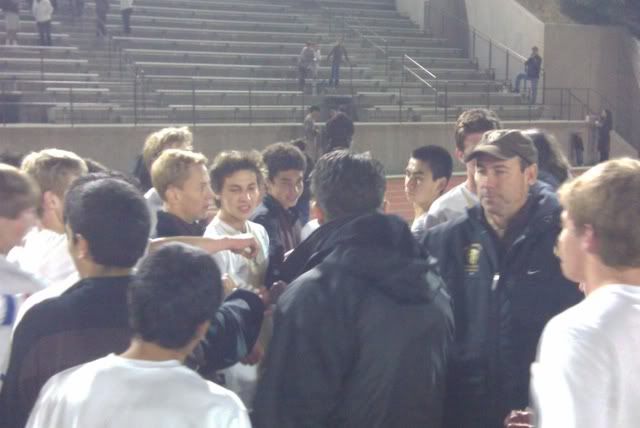 Above: St. Francis celebrating an impressive win over rival Loyola on Friday night.
Well, the verdict is in: St. Francis is still the No. 1 team in the WSGV. There's little, if any, evidence that proves otherwise. Friday was a good day for boys soccer. At 3 p.m. you had No. 2 La Caada hosting No. 3 Monrovia. The Spartans won 2-0 to keep their Rio Hondo League record intact at 3-0. My honest opinion is the Wildcats had better individual talent, with Mathias Ibaez leading up front, but La Caada was a much better team tactically and is fundamentally sound. Cameron Meeker and Matt Caatta lead the way for the Spartans. Both draw plenty of attention and both found away to create scoring opportunities. First-year La Caada coach Barry Riston is doing a wonderful job over there. Things may be different in the second-leg, but the site may not. Monrovia's field is currently under construction, meaning the second meeting could be played again at La Caada High.
After the La Caada game I headed over to St. Francis (4-8-1, 2-2-1) to check out the Golden Knights against rival Loyola (7-6-3, 1-1-1). The stands were packed and the crowd was boisterous as expected. St. Francis took a 1-0 lead in the fourth minute of play after Christian Swart faked a defender and took another step inside the penalty area before unleashing a blistering shot into the far corner of the net. St. Francis lost quite a handful of players to the developmental academy, and they're not the sophisticated team it was last year when it went on to win the CIF Southern California Regional. But what they lack in sophistication the Golden Knights more than make it up with relentless effort. St. Francis outplayed Loyola in every facet of the game. The Golden Knights showed signs of great things to come. Sewart continually slipped through defenders and pressured the keeper. When Loyola did make a push up front, the Cubs were stymied by misdirected shots or stellar deflections by the St. Francis defense. All in all, the Golden Knights proved they belong at the No. 1 spot despite my being ridiculed for placing them there because of a record that is all but misleading.