Keith Lair did a great job writing in today's paper about Keppel's storied gym…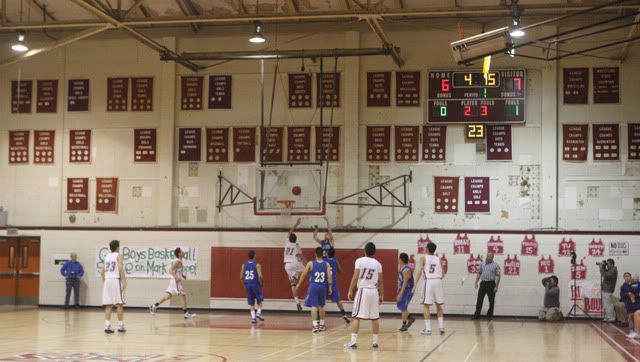 By Keith Lair, Staff Writer
ALHAMBRA – Some basketball courts have a mystic. An aura.
Duke has its Cameron Court Crazies. New Mexico plays at The Pit. Wisconsin plays in The Barnyard.
They are fabled arenas. They tend to be older and terrific places to watch a game or just to watch the zany, noisy fans. There are no thoughts of discontinuing their use.
There is such a place in the San Gabriel Valley. The Keppel High School gymnasium is old. It's loud during basketball games. It's cramped, like Cameron Indoor Court, The Palestra in Philadelphia and MacArthur Court at the University of Oregon.
But in a little more than two weeks, the Keppel gym will be history.
The Aztecs have two more home games remaining in the gym, which was built in 1939 and first used in 1940 when the school opened. And then it will be history. The Aztecs host Bell Gardens on Feb. 2 and then Alhambra in their regular-season finale Feb. 12.
The new gymnasium, just to the east of the current one, is expected to be ready for use by September.
"We really do look forward to getting the new gym," athletic director Ish Perez said. "The kids really deserve it; the programs really deserve getting some top-notch facilities. The kids really have deserved it for a long time and it's just nice to provide that."
However, there is something that will be missed: that aura, that mystic, that charm. Think of the movie "Hoosiers."
CLICK ON THREAD TO CONTINUE READING

"It's awesome," Keppel boys coach Hung Duong said. "I'm going to miss it. The (players) don't know how much they will miss it yet. When we play our last home game here, that's when we're going to start feeling it. The kids don't know it, they don't realize it."
The gym, which seats 400 if everyone is crammed in, will not be torn down. It will be used by lower level teams. The varsity teams will play in the new 1,200-seat gym.
With a student population of 2,404, only one-sixth of the entire student body can watch a game at one time in the current gym.
With the successes the Aztecs have enjoyed in recent years, it means the gym is full for every game.
The Keppel girls have won 87 consecutive Almont League games and advance deep into the playoffs nearly every season. The Aztec boys are 16-4 this season and battling for the league title.
"It's very sad for me," Keppel girls coach Ib Belou said. "I'm hoping Ish will let us play some playoff games in here. In a small gym like this, you can pack this house."
The gym has definite distinctive features. It has a high ceiling with five long vertical windows on the north and west sides. Those same-sized windows on the east side have been cemented up. The walls have not had a coat of paint in more than 30 years, said Rudy Chavez, who attends nearly every home game and was the school's principal between 1983 and '98. There is only one stall in each bathroom.
Roughly 300 bleacher seats are on the west side of the building. There are three rows of bleachers on the east side, which also house the scorer's table and each team's bench. The court's sidelines run right against the bleachers. In order to do their coaching, Duong and Belou are frequently standing on the court while the game is being played.
And nearly everyone, especially the players and coaches, love it.
"This is as good as it gets," said former Alhambra coach Joe Petralia, who was forced to play the Aztecs for more than a dozen years in the gym. "Having a gym like this is great for high school. It's as good as it gets. I like old gyms. It's more fun. You go to some of the newer gyms and they're expansive. It's not the same feel. This is a real good high school environment. It's kind of why you like to coach in high school. It was always fun.
"It's harder than any high school gym that I've coached in. You have that wall right up against you. You're kind of not free to say what you want to say because the bleachers are right there. It is extremely noisy."
During a game against Schurr this season, a referee told Duong and Schurr coach Kevin Akiyama to try and not stand during the game because he could not move along the sidelines.
Yet, all coaches seem to love the gym.
"We're excited to play here every year," Akiyama said after a 66-41 loss. "I'm kind of disappointed that this is the last time we will play here."
Current and former players also voiced their sadness, too.
"It's crazy," senior guard Timmy Wong said. "All the fans and fan support. It's amazing. I love it."
"The gym has personality and character," said current teacher and 1966 Keppel graduate Rich Westphaln, who played basketball in his freshman and sophomore years before switching to tennis. "This gym has a lot of personality."
Duong and Belou said they hope they can continue playing some games in the gym next season.
"This gym has a lot of charm and it's a big homecourt advantage because it's so loud and the crowd is so close to the court," Duong said. "We were thinking about scheduling league games in this gym still. Forget about the new gym. We like the new gym. Maybe we'll use it as a practice facility."
"I'm sure he's kind of split on whether he's happy about a new gym or whether he'd rather keep this advantage," Petralia said. "I wouldn't want to give this up. It would be a pretty good place to play."
Perez said he is embarrassed when he has to pick up playoff tickets from the CIF-Southern Section.
"For a girls team that frequently makes it to CIF, to be able to host and actually have a facility you can be proud of, that is the big thing," Perez said. "When you go down to pick up your tickets for CIF and they ask you how many, you say, `Uh, I don't think we can seat more than 300.' "
There will certainly be advantages to a new gym: air conditioning, heat and no longer the need to alter schedules to fit all of the athletes into one gym.
"It's that Hoosier vibe," Belou said. "I love this gym. I love the history that it has. We're going to make sure to tell the girls to enjoy it because they're going to be the last group to play in here."
keith.lair@sgvn.com