Our many thanks to ESPN's director of public relations Crystal Howard who allowed Star-News photographer Sarah Reingewirtz and myself to capture every moment of Dietrich Riley's big day as he announced Wednesday on ESPNU that he would sign with UCLA. From Dietrich Riley's arrival to ESPN studios in Los Angeles to the moment he walked out of the interview room, we captured it all. Also, many thanks to Dietrich's mother, Marika McWhorter, who played an instrumental part in letting us be part of the process, not just in the last few weeks, but since Dietrich's rise a few years ago, granting interviews and giving us insight into the life of Dietrich Riley and what turned him into the young man he is. Our many thanks to St. Francis coach Jim Bonds who answered my calls even when he was screening them the last couple weeks because, well, you know why. Riley's high school season doesn't end, however. He's on the basketball team where the Golden Knights celebrated Senior Night on Wednesday. After that, Riley moves on to track before putting on jersey No. 4 for the UCLA Bruins. This truly is the beauty about covering high school sports, watching athletes you covered throughout their career and watch them go on to do bigger and better things. I can't count how many current pro athletes I've covered in my nearly 10 years as a sportswriter. To be able to watch TV or look from the bleachers, and say, I covered that kid. Simply the best.
Below: Dietrich Riley meets well over a dozen relatives and coaches as he arrives at ESPN followed by a camera crew from EA Sports which is doing a documentary of Riley. To Riley's left is his grandfather Samuel McWhorter and uncle Tom Short to his right.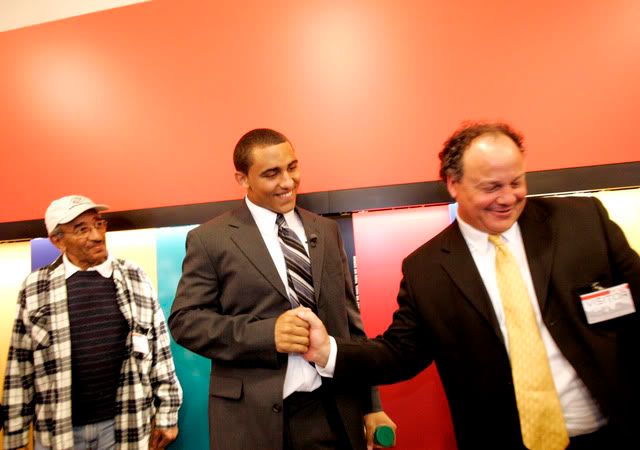 Below: Dietrich checks his earpiece one more time before the door closes and is moments away from going on the air to announce where he'll play college football.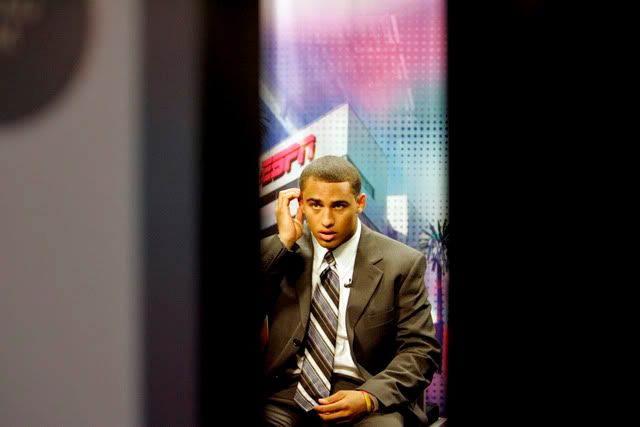 Below: Family reacts to Dietrich's decision to play at UCLA. From left, Dietrich's mother Marika, grandmother Margaret McWhorter, uncle Darron McWhorter, and St. Francis football coach Jim Bonds. Only five members of Riley's party could follow Riley to the fourth floor. Fortunately, Sarah and I already had received clearance, so we were not included in the five members Marika had to choose from. It was tough because Dietrich had so much family there. But the five chosen were a good call. Gotta have mom and grandma, of course. Darron practically raised Dietrich, getting him so into football and taking him to practice since almost the very beginning. Also part of the group was Kenneth Edwards, Dietrich's cousin who is like a brother to him. He is not pictured.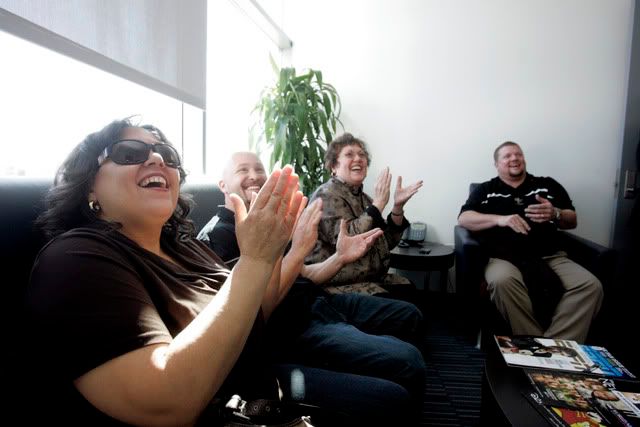 Below: Dietrich exits the interview room and is greeted by cheers and applause. He gets hugs and handshakes from everyone there. After, our fine host gave us a look at the SportsCenter set. It looks smaller than on TV.

Below: Riley gives grandma a big hug and a kiss. It was funny because we were all crammed in the elevator on the way up, and she looked at me and said, 'I know you. You're the reporter who writes all those articles. You're good.'" I was flattered, of course. She's a big fan she says.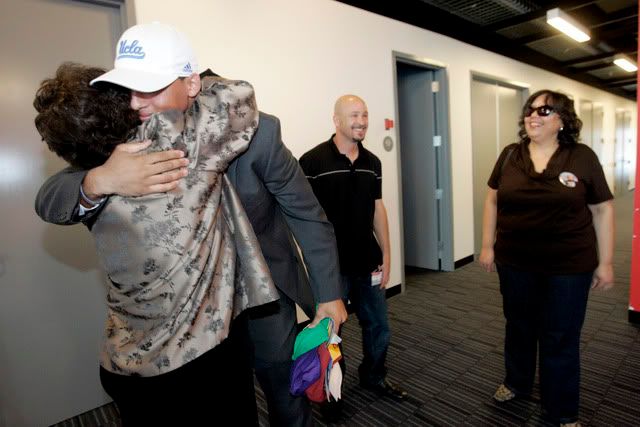 Below: Dietrich is elated and glad it's all over. He stressed the recruiting process was overwhelming and plenty fun, but at times it was a bit too much. He turns on his cell phone as soon as he's done hugging everyone and of course his phone is blowing up. Text messages and phone calls up the ying yang. He gets a call from UCLA coach Rick Neuheisel and says: "You look good on TV buddy. You put on the right hat" before the call cuts off near the elevator.

Below: Dietrich is embraced by his fellow coaches. The EA Sports crew is outside with camera pointing at Riley. It's a bit of a commotion because our Sarah is snapping away as the crowd eating nearby looks on and are happy, too. Two women who I have no idea who they were started taking pictures on their Blackberrys, then shook hands and congratulated Dietrich. Maybe they see a star on the rise.

Below: If a picture's worth a thousand words, well, here it is ….