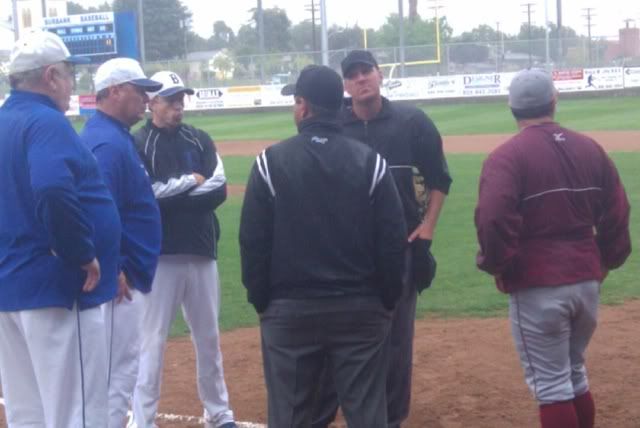 Above: Burbank coach Bob Hart and his staff and Arcadia coach Nick Lemas discuss whether to continue playing because of rain …
BURBANK — It took me longer getting to and from Burbank than the game itself, though I gotta give the umps some credit for at least making it worth my while. The game went on despite persistent rain. It lasted only one inning with Burbank's McCauley Taylor throwing 15 pitches and Arcadia's KJ Edson throwing 11. The game was delayed for 15 minutes, but really that turned into 43 minutes, but not before the umpires decided to let Taylor warm up, then delay the game another 10 minutes before finally putting an end to the circus. The Burbank supporters clearly weren't happy that the game went on at all, what with Taylor having little grip on the baseball — he walked the first batter on four pitches. The game might be rescheduled for Thursday at Burbank, but rain is in the forecast the next three days. "I'd rather get it played this week," Arcadia coach Nick Lemas said. If the game is not played Thursday, it's likely they'll then meet Monday. "I don't see how we can't get it played now," Lemas added. "It looks like it's slowing down." Not five minutes passed when it started raining hard again, and I think that was the problem to begin with, the rain was inconsistent; it sprinkled, it poured, it stopped, then it came down hard again. This wasn't the only game to be postponed because of rain. Just across campus, the Burbank-Arcadia softball game also was called. Pasadena's home game against Crescenta Valley was called hours before its 3:30 start. The Duarte-Azusa softball game was postponed, too, and I understand that some practices didn't happen either. We're supposed to see rain Wednesday, and what this will do to the Rio Hondo Leauge baseball showdown between Temple City and Monrovia still is unclear. And, yes, I hate the rain.
Below: With Pasadena's game called before it even started, Bulldogs coach Mike Parisi made the drive to watch, err, wait and see if this game had a chance.