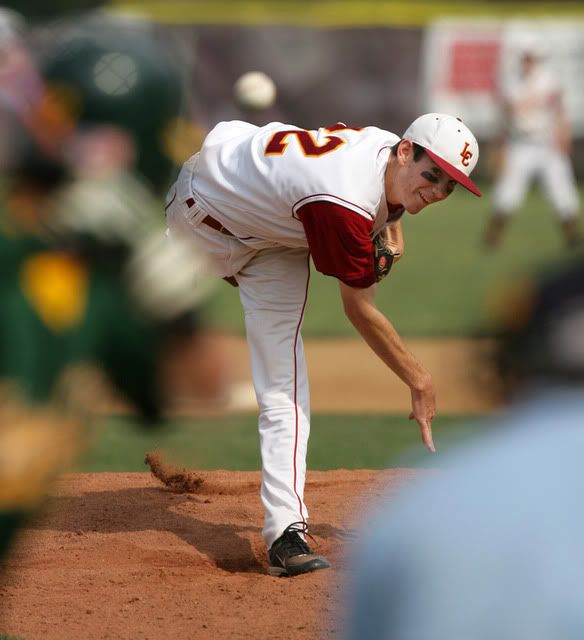 By Miguel A. Melendez, Staff Writer
LA CAADA – To say the La Caada High School baseball team is playing better with the return of Brendon Shoemake would be an understatement.
He didn't pitch for four weeks because of a bruised bicep muscle in his right throwing arm, but his return to the mound also means one thing – the Spartans' return to the win column.
Shoemake went the distance, struck out six and allowed two runs on five hits to lead La Caada to a 4-2 Rio Hondo League victory over Temple City on Tuesday.
La Caada (11-6, 5-4) extended its winning streak to five games and three in a row in league, all wins for Shoemake (4-0).
"He's made a big difference," La Caada coach Dennis Ballard said. "He's built our confidence when he's on the mound. We look to him to get the outs, and that's what he did today."
CLICK ON THREAD TO CONTINUE READING

Michael Lee went 3 for 3 and scored three Spartans runs after two singles to left and a bunt single in the sixth.
Temple City (12-7-1, 8-2) struggled at the plate with just five hits, two of which came in the seventh on Justin Smith's double to left and a single to right from pinch hitter Justin Sutton.
Ruben Jara drew a bases-loaded walk to bring home Smith and make it 4-1 and Jonah Jarrard reached first base on a fielder's choice. That allowed Corey Copping, who drew a walk, to score and make it 4-2. The Rams got no closer as a grounder ended the threat.
"We've been living on borrowed time when it comes to scoring and it finally caught up to us today," said Temple City coach Barry Bacon, whose Rams beat South Pasadena 1-0 last week in 10 innings. "We gave up too many runs and we left too many runs on base."
Temple City had two runners thrown out at third. Julian Jarrard, who took the loss, was caught stealing third on a brilliant throw by La Caada catcher Anthony Mizrahi. Branden Pultz headed home on a pitch that got away from Mizrahi, but the ball didn't go too far from Mizrahi, who helped catch Pultz in a rundown.
"I take that as my fault," Bacon said. "I sent him and it (the ball) didn't go as far as it usually goes here. It got caught in the grass.
"We get a guy thrown out at third on a broken hit and run, so offensively we absolutely killed ourselves today. When we had runners in scoring position guys come up and they ground out or they popped up."
La Caada scored two runs in the third on Shoemake's RBI single to right and Kyle Gosselin's sacrifice fly scored Scott Stetson, who was hit by a pitch. The Spartans added a run in the third on Lee's RBI single, and Lee scored in the sixth. He laid down a bunt single, was sacrificed to second, stole third and came home on a balk.
"You have to take advantage and make a play," Ballard said. "It's always exciting when you beat Temple City."
miguel.melendez@sgvn.com