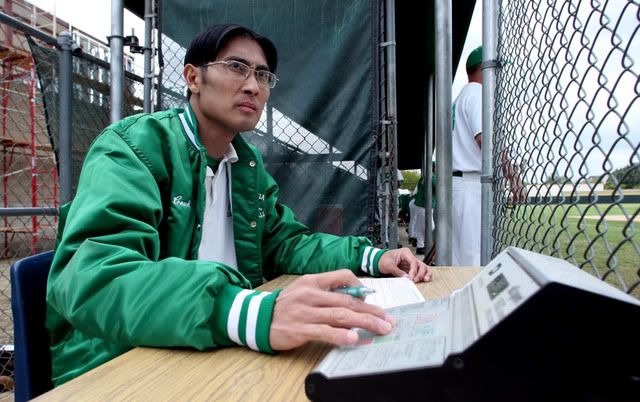 By Miguel A. Melendez, Staff Writer
Wayne Tao takes 16 pills a day for Lupus, Tourette's Syndrome and Painful Neuropathy.
He can take 16 more, but no medicine in the world can subdue his pain like watching the Monrovia High School baseball team take the field. It's where he finds peace and serenity like no place else.
For the last 17 years, Tao's been a constant; a pillar of strength and support, and the epitome of true loyalty. He's more than just a scorekeeper — he's an integral member of the team. Rain or shine, he's there home and away. Just take a look. Tao's sitting in his usual spot, next to the Monrovia dugout. His loyalty, however, is not limited to baseball.
For the last 14 years, Tao's roamed the Monrovia football sidelines keeping stats; a job that used to be a three-person crew Tao now does by himself.
They say perception is reality, and if that's the case then Tao's living the dream. He gets to watch baseball and football, two sports he learned to love after he came to the U.S. when he was 6 years old.
Tao's reality, however, hasn't always been the perceptive dream.
His tiring life has been marred by painful experiences scattered over a 35-year life span, a treacherous road that's led to countless hospital visits literally living a painful life.
CLICK ON THREAD TO CONTINUE READING


It started in Taiwan when he was 2 years old when he fell down a two-story flight of stairs, hitting his head so hard that doctors pointed to that incident as the root of his Tourette's Syndrome.
The Monrovia graduate was diagnosed with Lupus in 1990 at the tail end of his sophomore year. The year started in euphoria when Tao made the junior varsity baseball team, his persistence paying off after trying out and not making the team his freshman year.
Tao was heartbroken when his career was cut short in the last month of the season after doctors discovered two blood clots in his right leg, causing some of his toes to turn purple. He recovered at Children's Hospital of Orange County, and it was there where doctors diagnosed him with Tourette's.
For the last 20 years, Tao takes daily blood thinners to reduce blockage and gets monthly blood check-ups.
"I don't want to take any more pills," he said. "I want a normal life."
Tao doesn't work and is on disability, but it's not enough to help cover his expenses. He would like to get a job, but his ailing health at times is a hurdle he can't overcome. His ailments are the reason why he only attended two years at UCLA after finishing with a 4.25 GPA and ranked No. 18 in his class at Monrovia.
It's been rigorous process, drastic at times and even disappointing.
"Right now I feel like instead of being 35 it feels like I'm 60 or 70 years old," Tao said. "With all the medical problems I feel like I'm old. My body can't handle it anymore."
After college, he applied for 60 different jobs in a span of three months. He got one call back from Costco. Tao went to the interview, was told it went well and was asked to come back for a second interview. Three days before the interview, Tao received a post card in the mail saying the company made enough hires already.
He didn't let that experience deter him. Tao is shy, but he's also charismatic, friendly and ambitious. That much was certain when he was part of a group from Monrovia's senior class that attended a leadership conference in Washington and watched the State of the Union speech in 1992. Had Tao stayed at UCLA he said he wanted to go into government or business. He's not sure when he'll go back to school, if at all, and though that part of his life has yet to pan out, it's proven to be a blessing in disguise.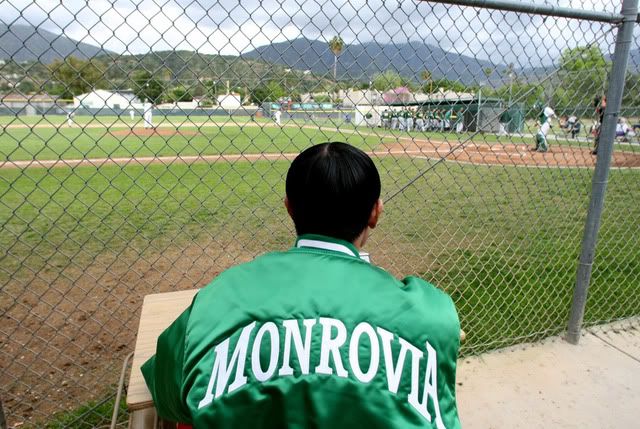 Monrovia co-head baseball coach Dave Moore has been at the helm for 28 seasons, and Tao's been by his side for nearly 20 years.
Tao keeps stats, works the scoreboard, charts the pitch count and makes sure there are enough baseballs for the game. He arrives hours before game time, a pleasant sight for Moore and co-head coach Brad Blackmore, now in his 20th season at Monrovia.
"He's pretty much the go-to guy," Moore said. "He's always keeping everything in check. He gets to school and makes sure we have everything. I'm such a lucky coach. He does all the MaxPreps stuff, calls the newspapers with the box scores. I haven't done stats for 10 years."
Tao loves going to UCLA basketball and football games, but he hasn't gone back since college; ticket and parking prices being the culprit. He doesn't drink or go to clubs. It's the little things that keep him happy and smiling, and it starts and ends on the diamond — the camaraderie and watching players develop into their own. It's what keeps him coming back for more.
"I'll do it as long as I can," he said. "As long as my body will allow me to."
miguel.melendez@sgvn.com