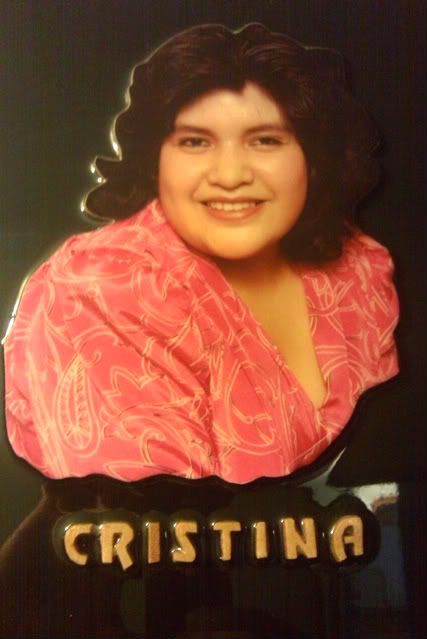 This column originally published Sunday, May 9 in the Star-News on page A3
By MIGUEL A. MELENDEZ
A brave woman I know courageously left the father of her three kids because of one too many drunken beatings, survived being struck and dragged by a truck and muscled the strength to fight her family's way out of homelessness.
That's my Mom, and this sportswriter has a lot to be thankful on this day we honor the great woman standing behind every good man.
Cristina Hernandez, 45, is living proof of the American dream. Born in Puebla, Mexico, Mom came to the U.S. young, alone and in search of a better life.
The odds, however, seemingly were against her.
She had my brother Marco at 15, me at 17 and my sister, Anabel, at 19.
The last memory I have of my biological father is a fight he had with Mom that escalated out of control. Mom had had enough of his abusive ways and wanted out, but he wouldn't make it an easy exit. He held a knife at my brother's throat near an alley in the dark streets of Los Angeles, Mom begging and pleading to let him go. He eventually did, and walked away never to be seen or heard from again.
Mom's struggles had just begun.
CLICK ON THREAD TO CONTINUE READING

Working multiple jobs and long hours, Mom was hardly around. My brother and I, both born in Tijuana but raised in L.A., spent a lot of our time either at school or running away from bullies. We grew up near Olympic and Blaine, just a few blocks away from Staples Center.
While on assignment covering the Lakers for another newspaper a few years ago, I took a drive down the street we spent many nights wandering, sneaking out of our roach infested apartment after Mom tucked us into our foldout bed.
The smell of urine, sound of helicopters hovering above and police sirens blaring from afar was sadly our sense of familiarity. Mom worked hard though to take us out of that environment. Things looked bright, much so we dressed up for our first visit to McDonald's and took a picture. Eating at the Golden Arches meant we were doing good, no longer settling for ketchup sandwiches and salt tacos. Really, a salt taco – a warm tortilla sprinkled with salt.
But a near fatal accident all but derailed Mom's hope of getting out. She spent months in the hospital recovering from serious injuries to both her legs and arms, and was lucky she didn't lose her limbs. She had to start all over, with no apartment, job or family offering comfort. We were homeless, a memory I've unsuccessfully repressed.
Mom's stronger than ever now, and proves it every day. She later married, became a U.S. citizen and gave us two more sisters, one of whom, Lizbeth, draws her friends insane because she's tagged along to just about every major sporting event.

Above: The only ladies in my life. My mom, sisters Anabel, Evelyn and Lizbeth.
She can thank Mom for that because it was her strong work ethic and sheer determination to only let us surround ourselves by strong, smart and positive role models. Work was work to Mom, even if it meant cleaning office buildings in the day and commercial buildings at night. She dragged us with her to Santa Monica, Beverly Hills and Pasadena.
I've worked since I was 12, had my first real job at 15 and became a sports freelance writer at 17.
Never in my life would I have imagined Mom's struggles would pave the way for a dream life that's led me to do work for some of the most prestigious news organizations like The Boston Globe, The Orange County Register and The Associated Press.
Fourteen years ago, Mom promised us Del Taco cheeseburgers every time we'd come help clean the Kinko's on Lake and Colorado in Pasadena. She'd take us to Garfield Park in South Pasadena on a break a few times, the elegant houses and Norman Rockwell-like neighborhood a different world I'd never known or seen but quickly grew to love.
At 26 and after a nearly 10-year career as a journalist, I find myself writing this column in the Star-News building across the street from that very same Kinko's. I wake up to the breathtaking views of that very same park in my new home.
The dream is alive and well, and it's all thanks to Mom, who in my book deserves her story heard.
And now it has.
miguel.melendez@sgvn.com