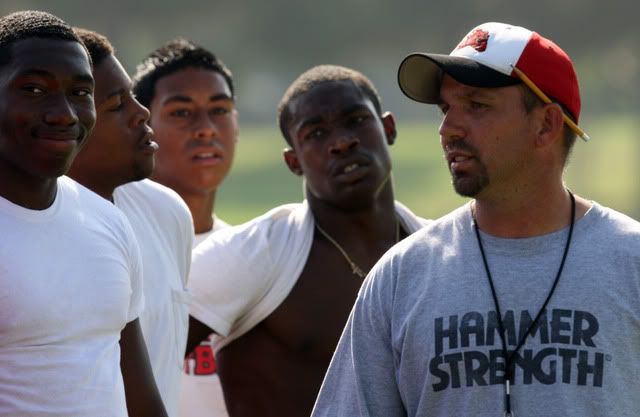 By Aram Tolegian, Staff Writer
Mike McFarland, who was the head football coach at Pasadena High School last season, has been offered and has accepted the Temple City job vacated by Anthony White, who resigned in late February after one season. McFarland is now awaiting the results of a standard background check and school board approval before making it official. McFarland, who graduated from Arcadia in 1993, previously coached offensive line at Muir in 2001 before several small-college stops. He went 5-5 last year in his lone season at Pasadena. He's expected to teach government and economics at Temple City.
CLICK ON THREAD TO CONTINUE READING

Muir embarks on important spring
Muir coach Ken Howard knows he has the linemen, and thinks he has the skill players, but is still working on finding a quarterback to complete the puzzle.
When the Mustangs began spring practice on Monday, quarterback was an open position, and it's not expected to be filled until well into summer. Jeffrey Davis, Josh Washington and even receiver Kevon Seymour are getting looks. They're all trying to replace Jarron Williams, who graduates this June.
"Right now, it's still up in the air," Howard said. "The summer is going to dictate where these kids end up."
If Davis or Washington are able to win the gig, that would allow Seymour to join Carl Holmes on the outside in giving the Mustangs a dangerous pair of wideouts.
Running back is also unsettled, but less of a worry thanks to the arrival of Crescenta Valley transfer DaDa McFadden, who should push for the starting spot against a deep cast of ball carriers that includes leading returner Trayveion Yates.
Howard estimated his program has about 60 players out for spring practice. He says that number could grow to 70 over the summer, but that's still small in comparison to most other local schools.