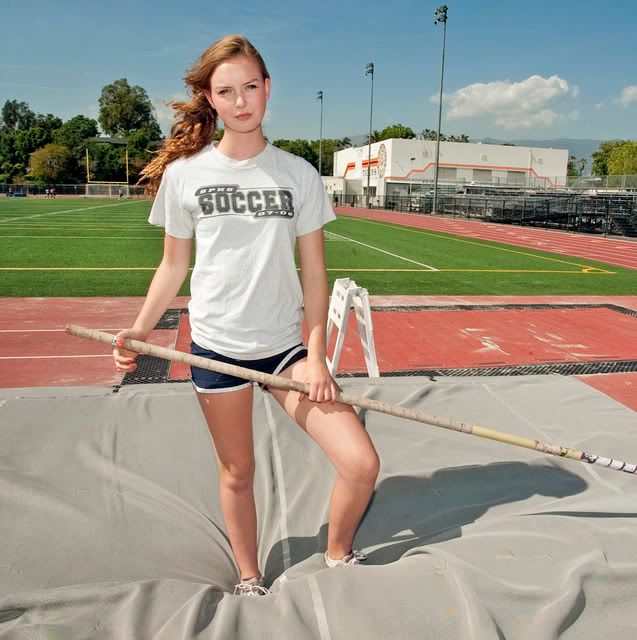 CLICK HERE FOR A PHOTO GALLERY OF SOUTH PASADENA'S ROBIN LAIRD
RELATED LINKS:
Pasadena Star-News: National media takes hold of track incident, put their own spin on it
Los Angeles Times: A jewelry controversy in Pasadena
The Wall Street Journal: Daily Fix High School Sports Feel-Good Spectrum
Dallas Morning News: Pole vaulter disqualified because of a friendship bracelet, really?
Salt Lake Tribune: California track coach needs lesson in sportsmanship
Minneapolis Star-Tribune: Sportsmanship vs. gamesmanship
Las Vegas Review-Journal: Costly Jewelry
St. Petersburg (Fla.) Times: Team disqualified because of friendship bracelet
Gainsville (Fla.) Sun: Season of the Weird: Will it ever end?
MaxPreps.com: Old coaching dogs up to same old tricks
Pasadena Star-News: Jewelry snafu costs South Pasadena track league title
Sports Illustrated: Where's the sportsmanship? Girl disqualified for wearing bracelet
Arkansas Sports: Good Thing This Kind of Bad Sportsmanship Doesn't Happen Here
SpartanTailGate.com: Disqualified for wearing bracelet, opposing coach right or wrong?
Yahoo! Sports: Pole vaulter disqualified for wearing bracelet
Six Billion Stories and Counting (SBS.com): A fault in the vault
SportsRumorMill.com: Championship undone due to… friendship bracelet?
Fan Nation: Sometimes in sports, rules are made to be broken
Deadspin: Awesome Track Coach Wins League Championship By Disqualifying Girl
The Big Lead: Track Team Loses League Championship Because Of A Bracelet
ABC7.com: HS track team gets disqualified over bracelet
By Miguel A. Melendez, Staff Writer
SOUTH PASADENA — Commentators, bloggers and the national media continued Wednesday to debate the finish of a dual track meet that ended in controversy when a pole vaulter was disqualified for wearing a friendship bracelet.
The April 29 meet between South Pasadena and Monrovia high schools hit the national radar screen Tuesday when Sports Illustrated published a detailed piece about pole vaulter Robin Laird's disqualification.
"Right now it seems as if its turned into a monster of its own," said South Pasadena track coach P.J. Hernandez. "I never thought it would get this much publicity … Now this is national coverage its crazy"
During the April 29 meet, Monrovia co-coach Mike Knowles pointed out Laird's friendship bracelet violated national rules prohibiting jewelry. He did it after Laird cleared 7-feet-6-inches and seemingly won the Rio Hondo League title for Tigers.
Knowles was instructed Wednesday not to discuss the incident.
CLICK ON THREAD TO CONTINUE READING

"The focus should go back to the girls," said Monrovia High School principal Darvin Jackson. "…Allow them to enjoy the fruit of their labor. The adults at the table who are responsible hope to come to a resolution and put it behind us."
Athletic directors and administrators from both schools met Wednesday evening at South Pasadena High School. Both sides will release statements Thursday, Jackson said.
At a Wednesday afternoon practice for the CIF-Southern Section Division 3 championship, television crews from local stations set up cameras and did interviews with Laird and others. Producers from sports talk radio stations also sought interviews with the pole vaulter and her coach.
"It's definitely been overwhelming," Laird said. "What's surprising is how worked up people are getting over this. This has happened all over the country and I'm sure other teams have suffered this kind of situation."
Laird said the offending bracelet, made of cloth, slipped her mind.
"Before every meet, I'm conscious of taking off my earrings and necklaces," she said. "But, I just never really thought about the wristband. I've been wearing it nonstop since November."
A four-year letterman, Laird plans on attending USC, but won't run track. Her 7-6 jump was the best mark of the day. South Pasadena's Rachel Ma and Monrovia's Samantha Boltz and Gabby McBride all cleared 7-0.
Hernandez said Laird's Facebook page has been bombarded with supportive messages. South Pasadena has also received several phone calls of support.
"A lot of strangers have been calling questioning the jewelry rule and what's the spirit of the law and the intent of it," Hernandez said.
Rich Gonzalez, editor of DyeStatCal.com, a track and field website, said regardless of the uproar, rules are rules.
"Coaches are always complaining that the rules need to be changed, its an annual gripe that coaches have and the masses realize some of these rules don't seem to mae sense. But, as long as it's a rule it's up to the coaches to educate their kids about the rules."
miguel.melendez@sgvn.com