Above: There were nearly 75 friends and family members who attended Dylan Covey's MLB Draft party. The room literally shook when MLB Commissioner Bud Selig made the announcement on MLB Network. The excitement and awe was captured by Star-News photographer Eric Reed. Our many thanks to the Covey family for allowing us to be part of the day, and many thanks to the Lee family for allowing us into their beautiful home.
By Miguel A. Melendez, Staff Writer
PASADENA — The normally cool, calm and collected Dylan Covey couldn't hold his emotions anymore.
The senior pitcher from Maranatha High School erupted in celebration after he was selected 14th overall by the Milwaukee Brewers in Major League Baseball's first-year player draft on Monday.
Dozens of friends and family members packed Dr. Sam and Angela Lee's residence in Pasadena to anxiously await the inevitable.
Covey exploded onto the national scene in his sophomore year when he pitched at the PGWWBA World Championship in Jupiter, Fla. He struck out 18 batters in a game against the Kansas City Royals scouts team and drew raves from the reported 350 or so scouts in attendance.
The 6-foot-2, 200-pound senior right-hander led the Minutemen (19-10) to the CIF Southern Section Division 5 quarterfinals this past season and posted a 7-1 record with three saves, a 0.40 ERA, 138 strikeouts and 20 walks in 70.2 innings. He also hit .414 with a home run and 17 RBIs and led the Minutemen to a Division 5 championship last year.
Covey's 96 mile-per-hour fastball wowed more than several dozen scouts who attended his games this year.
His sharp breaking ball reaches an above-average velocity in the 78-82 mph range. Aside from his athletic gifts it was his humble demeanor that made him attractive to so many professional teams.
It culminated in MLB Commissioner Bud Selig announcing Covey's name. It didn't matter that he mispronounced it.
CLICK ON THREAD TO CONTINUE READING
Below: Dylan Covey's image on the TV screen after being picked 14th overall by the Milwaukee Brewers. As he put it, it was his last day as a kid.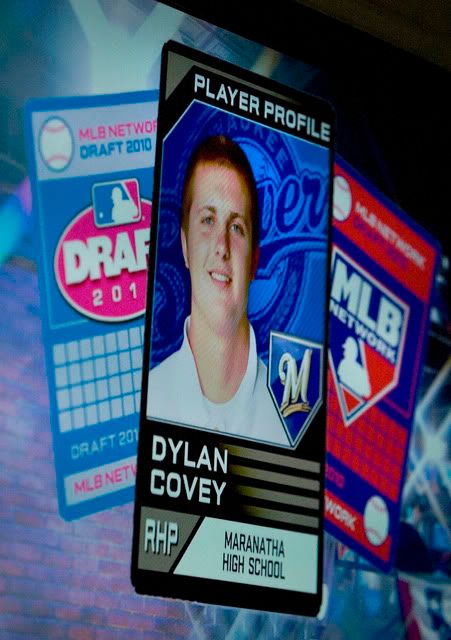 Covey's parents, Darrell and Angela, met with 28 of the 30 clubs in their living room to discuss their son's future. In the end, it was the Brewers with whom Darryl said the family felt closest when the courting process started nearly two years ago.
"I'm definitely excited to go there," Covey said. "It's kind of weird saying I'm a Milwaukee Brewer.
"I still have the `M' on my hat."
Covey, the 2009 Star-News Player of the Year, and an Aflac All-American recently was selected Gatorade's California Baseball Player of the Year. He was invited by the commissioner's office to attend the draft in Secaucus, New Jersey. He politely declined.
"You saw all this," Covey said. "Just because of this atmosphere. I don't think it would have been the same sitting in the draft room. It was really fun seeing them all erupt.
"I was pumped because I had been waiting for this moment the last two years. The worst is over now. It's time to focus on the next stage."
Bryce Harper of Southern Nevada Junior College was the No. 1 overall pick by the Washington Nationals.
Contract negotiations will begin soon, and Covey said he feels confident the team will sign him.
"I don't really know what the figure is going to be," he said. "I'm hoping to have a two in front of it. I didn't really talk to them about the money aspect, but we'll see what happens. I'm confident we'll get what we need."
Darrell Covey will handle his son's negotiations instead of hiring an agent. That keeps his amateur status safe should he not sign and accept the baseball scholarship offered by University of San Diego.
All indications, however, point to Covey signing to come one step closer to living out his dream.
"I would say it's really, really strong that I sign," Covey said. "A first-round pick is a really good investment for a major league team. I have a really good feeling we'll fulfill our plan."
Darrell, who was drafted by the New York Mets in 1968, received text messages and phone calls minutes before Covey's selection. Covey ignored his phone.
Throughout the process, it was his father who provided a steady and guiding hand.
"Maybe except for two games my dad's been to my games my whole life," Covey said. "He flew with me everywhere, put out the money to fly me and fly with me. If you can count with one hand how many games he's missed, then that's pretty remarkable.
"I'm now one step closer to my dream because of him. When I get to the major leagues and get on that mound I'll look back on all this and I'll owe it to my family."
miguel.melendez@sgvn.com
Below: Covey's father, Darrell, stands in front of a few dozen to explain what exactly was happening. This was just one of two full rooms friends and family gathered to watch Dylan Covey's selection in this year's MLB Amateur Draft.