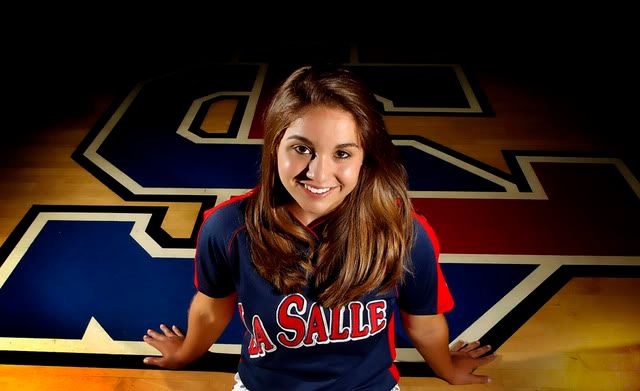 2010 ALL-AREA SOFTBALL
FIRST TEAM
COACH OF THE YEAR: Jaime Preciado, San Gabriel Mission
PLAYER OF THE YEAR: Allie Forillo, La Salle, Sr.
Pitcher: Lauren O'Leary, La Caada, Jr.
Pitcher: Michelle Floyd, San Marino, Fr.
Utility: Katie Clancy, Mayfield, Jr.
Catcher: Catherine Horner, La Caada, So.
Infield: Shelby Gogreve, South Pasadena, Sr.
Infield: Anna Edwards, La Caada, Jr.
Infield: Sterling Shuster, La Salle, Jr.
Infield: Annie Sommers, Maranatha, Jr.
Outfield: Alexis Watanabe, San Marino, So.
Outfield: Jessica Loicano, Temple City, Jr.
Outfield: Colleen McWilliams, La Salle, So.
SECOND TEAM
Pitcher: Lauren Cox, La Caada, So.
Pitcher: Nicole Holguin, San Gabriel Mission, So.
Catcher: Marissa Sanchez, San Gabriel Mission, Sr.
Utility: Mireya Hernandez, Mayfield, Fr.
Infield: Sam Miller, Arcadia, Sr.
Infield: Alashanee Medina, Keppel, So.
Infield: Megan Latta, Pasadena Poly, Sr.
Infield: Erika James, Marshall, Sr.
Outfield: Emily McQuaid, Arcadia, Sr.
Outfield: Megan Martin, La Caada, Sr.
Outfield: Lauren Sanchez, Alverno, Sr.
CLICK ON THREAD FOR STORIES, TIDBITS AND PHOTOS OF FIRST TEAM


LA SALLE'S FORILLO WAS THE TEAM'S HEART, SOUL
By Miguel A. Melendez, Staff Writer
Allie Forillo's arrival four years ago was the beginning of something special at La Salle High School.
Sure, the Lancers had just won the CIF-Southern Section Division 6 championship the year before, but it was time for a new generation to carry on the school's winning tradition, and Forillo was front and center.
With an unparalleled work ethic and sheer determination, Forillo smiled all the way to a Division 6 championship her senior year.
The mission complete and little else to accomplish on the diamond, Forillo trades her competitive spirit on the field for a future at Loyola Marymount, where she will begin the fall as an unknown freshman looking to make her name in other ways besides her wicked high-rise pitches.
Forillo leaves a lasting impression as an elite athlete having accomplished every player's ultimate goal. Softball now will take a back seat to the college experience. The difference is Forillo leaves the sport like a true champion, having reached the top.
For leading La Salle to a title after a string of dominant performances and exhibiting true class and sportsmanship, Forillo is the Pasadena Star-News' 2010 Softball Player of the Year.
La Salle (25-6, 12-0 Camino Real League) had collaborative efforts on its way to avenging a finals loss to Marymount in 2009, but Forillo set the pace.
She struck out nine in a 6-0 win over Marymount and finished 23-3 with a 0.53 ERA and a school-record 357 strikeouts. Forillo also batted .418 with 27 RBIs.
Forillo took home the league's most valuable player and most valuable pitcher awards and was the CIF-SS Division 6 Player of the Year.
It's hard to fathom the fact Forillo may not suit up for softball again, but softball served its purpose.
"It was my lifeline to high school," Forillo said. "It's how I got my name out there and made many friends. It was an opportunity for me to work with others, build friendships and form bonds."
La Salle coach Rich Diaz will have to find a way to do without one of the most dominant pitchers in the state.
"What I'll miss the most from her is the example she set committing to a program," Diaz said. "She never cut any corners. If we were going to be successful, not only as a team but on and off the field, she needed to be a leader with the young kids and she was."
Forillo's decision to leave softball is bittersweet, but she's embracing new challenges.
"No one is going to know me (at LMU)," said Forillo, who also was a cheerleader and chaired various committees at La Salle. "It'll be nice to put my name out there in a different way other than softball, and I hope to do it academically and through other things."
Forillo, a self-described "girly girl," is sure to at least have one piece of jewelry that will remind her of her dominance – a CIF ring.
She leads a list of talented pitchers that includes La Canada junior Lauren O'Leary and San Marino freshman Michelle Floyd.
O'Leary led the Spartans (25-5) to a Rio Hondo League title and CIF-SS Division 5 semifinals. She was 19-4 with a 0.61 ERA with 165 strikeouts in 114 innings. O'Leary was voted co-most valuable pitcher in league and earned first-team All-CIF honors.
Floyd's presence in the circle made the Titans (18-7) an instant contender in league and the playoffs. San Marino went from 4-15 a year ago and winning only one league game to a second-place finish in league and a run to the quarterfinals in Division 5. Floyd went 17-7 with a 0.43 ERA and 301 strikeouts in 146 innings. She threw 21 complete games and 10 shutouts. Floyd also batted .371 with 12 RBIs and a home run.
Mayfield junior Katie Clancy was a true threat anywhere she played. Clancy takes the utility spot, and for good reason. She was voted the Prep League's most valuable pitcher after leading the Cubs to a 20-6 record and an undefeated run in league. She also earned first-team All-CIF honors after leading Mayfield to the second round of the Division 5 playoffs. Clancy went 19-6 with a 0.76 ERA and 254 strikeouts in 166 innings. She threw 24 complete games, including nine shutouts. She also batted .321 with 26 RBIs and five doubles.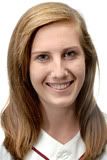 La Canada sophomore catcher Catherine Horner earned first-team All-Rio Hondo League honors after batting .365 with 17 RBIs, 12 doubles and a home run.
The infield features South Pasadena's Shelby Gogreve, La Canada's Anna Edwards, La Salle's Sterling Shuster and Maranatha's Annie Sommers.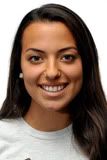 Gogreve, a senior headed to the University of Indiana, led her team in virtually every offensive category, including batting average (.440), on-base percentage (.500) and slugging percentage (.813). She had 10 RBIs, nine doubles and four triples. She earned Rio Hondo League co-MVP honors.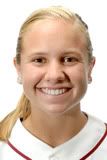 Edwards, a junior and the Rio Hondo League's co-MVP, batted .580 with 35 RBIs, nine home runs, nine doubles, two triples and 15 stolen bases. She also earned first-team All-CIF honors.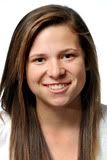 Shuster, a junior, helped lead the Lancers to their second CIF-SS Division 6 championship. Shuster batted .385 with 44 RBIs, eight doubles, a triple and a home run. Shuster, an excellent fielder with an eye for anticipation, went 2 for 3 with a single and an RBI double in the finals and earned first team All-CIF honors.
Sommers, a junior, was the Minutemen's offensive catalyst. She led the team in batting average (.505), on-base percentage (.553) and slugging percentage (.723).
The outfield is made up of Temple City's Jessica Loicano, La Salle's Colleen McWilliams and San Marino's Alexis Watanabe.
Loicano, a junior, batted .379 with 25 RBIs, eight doubles, three triples and five home runs. She also earned first-team All-Rio Hondo League honors.
McWilliams, a sophomore, batted .436 with 25 RBIs, six doubles, three triples and a home run.
Watanabe, a sophomore, batted .552 with 13 RBIs, eight doubles, two home runs and a triple. She struck out only three times, stole 21 bases and scored 21 runs.
miguel.melendez@sgvn.com
================================================
PRECIADO'S SAN GABRIEL MISSION DEVELOPS STRONG FOLLOWING
By Miguel A. Melendez, Staff Writer
It was a long trip, but the San Gabriel Mission softball team made the trek to Deanna Manning Stadium for the CIF-Southern Section Division 6 championship game last month.
The Pioneers slowly trickled out of the school van dressed in home uniforms. By the fifth inning, they wanted to leave.
"They were upset because they knew they should have been there playing," San Gabriel Mission coach Jaime Preciado said. "They didn't want to just watch."
Preciado made his underclassmen watch as La Salle dominated Marymount to win the Division 6 championship. They watched as the Lancers hoisted the CIF-SS championship plaque.
"They weren't happy about it," Preciado added. "They wanted that title, and to come that close hurt. That was the reaction I wanted from them, to leave that bad taste in their mouth so when we start playing again that's going to be our goal."
When it was finally over, Preciado took the girls to In-N-Out. A double-double burger likely didn't take away the bad taste of losing to La Salle in the Division 6 semifinals, but the fact San
Gabriel Mission was even there was a testament to the giant strides the Pioneers made late in the season to get there.
It was a surprising run for the heavy underdog reaching the semifinals while beating two powerhouses along the way, and for that, Preciado is the 2010 Pasadena Star-News Coach of the Year.
Preciado was a man with a plan when he took over as athletic director at San Gabriel Mission four years ago. One of his first duties was to start a summer program for the softball team. He was in his third year as softball coach, so that's where he decided to test his ideas.
"I tried to expand the program and used softball as a model," Preciado said. "We did a lot of things with the softball team and it took off, and so did the other sports."
The seven seniors on the San Gabriel Mission (20-4) that recently graduated were the first to attend the program. It wasn't easy to follow a structured program, but Preciado didn't let up.
"The first two years at Mission was a clash of ideas," Preciado admits. "I know I'm a bit rough around the edges; I'm a football coach trapped in a softball coach's body. My hero besides John Wooden is also Bobby Knight. I'll pull out the Pyramid of Success but I'll also throw a chair on the court.
"Ninety percent of my girls come from East L.A., El Sereno, Highland Park. These girls aren't from San Gabriel or Temple City."
So when the girls first pushed, Preciado pushed back, and eventually the girls saw the results and reaped the benefits.
"Now they weren't coming to me out of shape and a rusty glove," Preciado said. "They came ready to play."
Two years ago, Preciado started a junior varsity program.
"We didn't play a lot of games," he said, "but at least it's there to grow."
He went from having 15 girls trying out for softball his first year to 30 the next and up to 50 players trying out last year, and with the recent success those numbers are expected to go up.
The process was a slow crescendo, and this season the Pioneers made some serious noise, and playing with much fanfare were the likes of Nicole Holguin (.500, 26 RBIs, five home runs), Priscilla Hernandez (.560, 20 RBIs) and Marissa Sanchez (.491, 21 RBIs, 10 doubles).
After dropping the last two games of the season to Alverno and surrendering all chances of ending the season as an outright Horizon League champion, San Gabriel Mission went on a tear.
Not many penciled the Pioneers to beat Ramona Convent, but they did, 4-2. Surely they weren't going to beat powerhouse Oak Hills, ranked atop the division poll at one point, but San Gabriel Mission did, and beat them good.
The Pioneers weren't deterred by the fact they trailed 4-0 after two innings. San Gabriel Mission continued to dig, and won, 8-4.
Nordhoff?
Another powerhouse, and the Pioneers dispatched them, 2-1, to set up a showdown against La Salle on its home field in Pasadena.
The game hadn't started, and already Preciado was seeing evidence of the hard work he and his staff put in. Bus loads of fans chanted from the parking lot to the stands, holding signs and proving to be a boisterous bunch throughout the game. Even the mascot was all over
the place.
The La Salle crowd was more than impressed, as were the Lancers warming up on the field, smiling and looking in awe of the atmosphere. It was almost unprecedented.
Senior Clarissa Reyna hit a home run to straight-away center in the third inning to shock La Salle and take a 1-0 lead. That it came against perennial pitcher Allie Forillo seemed impossible to believe.
"But they believed," Preciado said. San Gabriel Mission came up short. La Salle scored two runs in the next inning to secure a 3-1 win. Experience proved to be the difference.
"At first I knew we were tight after seeing the big crowd," Preciado said. "By the time they relaxed it was too late. We were going up against Allie and she was just phenomenal. But we went out there and we went down swinging."
When the game ended, the well over 400 fans formed a giant circle in the outfield and sang the alma mater. When it was over, Preciado led the group in one last chant before officially calling it a season.
A successful season.
miguel.melendez@sgvn.com