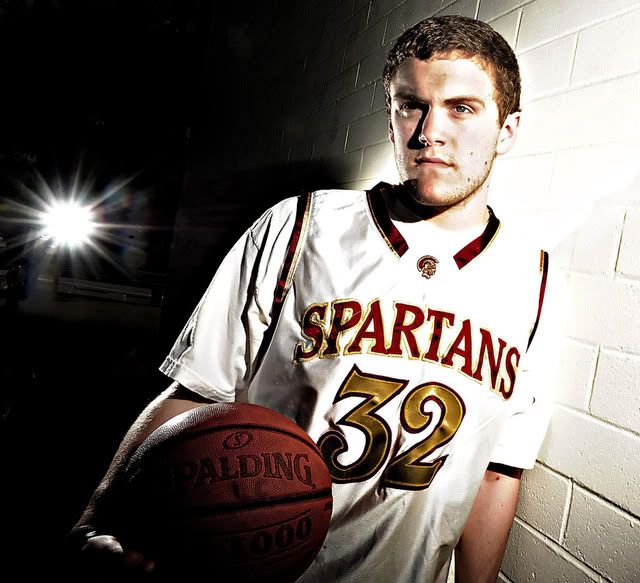 PASADENA STAR-NEWS
2011 ALL-AREA TEAM
Player of the Year: Mike McGlashan, La Caada, Sr.
Coach of the Year: Tom Hofman, La Caada, 25th season.
FIRST TEAM
Center: Kenyatta Smith, Flintridge Prep, Sr.
Forward/Guard: Daniel Wohl, Pasadena Poly, Sr.
Guard: Josh Chamberlain, Maranatha, Sr.
Guard: Austin Daniels, Pasadena, Sr.
Guard: Jelani Mitchell, Muir, So.
SECOND TEAM
Forward; Hunter Merryman, Pasadena Poly, Sr.
Forward: Matt Faber, La Caada, Sr.
Guard: Jared Norsworthy, Flintridge Prep, Sr.
Guard: Jeremy Major, Maranatha, So.
Guard: Matthew Santos, Bosco Tech, Jr.
By Miguel A. Melendez, Staff Writer
The body of evidence points to Mike McGlashan reaching the local pantheon of high school basketball.
The exclamation to a stellar career came when the senior point guard led La Caada to a CIF-Southern Section Division 3AA championship when nobody had the Spartans getting past the second round.
The road there was the most rigorous in any of Tom Hofman's 25 seasons as La Caada head coach, he said, and in their quest to raise a CIF championship banner, the Spartans (30-4 overall, 10-0 Rio Hondo League) debunked the theory that a public high school can't win with homegrown talent.
At the forefront of it all was McGlashan, who averaged 17.1 points, 4.3 rebounds, 3.4 assists and two steals. There was a cool elegance to McGlashan's game, which had no weakness. The spot-up shooting specialist was most dangerous slicing past defenders and attacking the basket. He was a stone-cold defender who fed on fast breaks. If nothing else, McGlashan's superb leadership coupled with proficient ball handling made him one of the premiere guards in the Southern Section.
The standout was voted the Rio Hondo League's MVP and the Division 3AA Player of the Year.
The trifecta, however, is now complete, as McGlashan is the Pasadena Star-News Player of the Year.
CLICK ON THREAD TO CONTINUE READING

McGlashan describes his final year as "unbelievable," and only now is he coming to terms with what the Spartans were able to accomplish this season – a CIF-SS championship and only one win away from playing for the CIF State Division III championship in Sacramento.
La Caada also tied the school record for most wins in a season.
"Looking back on it all, I'm already starting to miss it," he said. "It was unbelievable that we were able to come together like that as a team and accomplish and win it all together."
McGlashan has several Division III offers, but is looking at possibly being a preferred walk-on at USC, UCSB or SMU. He plans on majoring in business or pre-economics at those schools, and could very well end up at one of them. After what La Caada accomplished this season and how they went about it, underestimation is not a worry anymore for McGlashan.
La Caada beat several powerhouses (West Torrance, Pacific Hills, Bishop Montgomery) to reach the final, and when they got there, waiting for them was Price of Los Angeles – the top seed, with three Division I-bound stars.
"Everybody underestimated us and nobody expected us to even get past a certain round," McGlashan said. "We proved them all wrong."
The rest of the Star-News All-Area team includes Pasadena Poly's Daniel Wohl and Flintridge Prep's Kenyatta Smith, once-in-a-lifetime players who came to the Prep League.
The duo earned the league's co-MVP honors and played a huge role in elevating the programs at their schools.
Smith led Flintridge Prep (24-7, 7-1) to its first CIF-SS Division 5AA championship with a gritty win over Muir. Smith was a dominant force inside and was often double-teamed. He powered his way to averaging 20 points, 14.7 rebounds, 4.8 blocks and 1.3 assists. The 6-foot-8, 260-pound center was the Division 5AA Player of the Year and was one of seven players selected as a John R. Wooden High School Player of the Year.
Smith is headed to Harvard next season, and said the idea of helping build Harvard's basketball program was too difficult to resist.
Wohl, a 6-5 wing guard, is a two-time All-Area first-teamer after helping the Panthers (24-3, 7-1) to consecutive semifinal runs in the CIF-SS Division 5A playoffs. He averaged 20.3 points, 7 rebounds and 3 assists. He's committed to play at Williams College in Massachusetts, one of the top academic colleges in the nation and one that advanced to the NCAA Division III Final Four this season.
Perhaps Wohl's best game this season came in the second meeting against league rival Flintridge Prep. Down by eight, the Panthers went on an 11-3 run fueled by Wohl, who scored eight of those points in the final 1:24 to force overtime. They won in the extra period. He went on to earn first-team All-CIF honors.
Pasadena coach Tim Tucker said he was concerned with a season-ending injury to Todd Lewis Jr., a first-team All-Area selection as a junior. Tucker wondered how his team would respond.
Enter Austin Daniels.
The senior point guard who averaged 14 points, 6 assists and 3 steals elevated the Bulldogs with his leadership. He earned Pacific League's co- MVP honors in his first season starting for Pasadena, which won its seventh consecutive league title.
The Bulldogs (21-7, 14-0) advanced to the second round of the CIF-SS Division 1AA playoffs, and it was Daniels who led the charge in helping Pasadena finish the regular season with momentum.
"We don't do anything without him," Tucker said. "He took the team on his back and we rode him. When Todd Lewis went down, I thought we were done, to be honest with you, but he (Daniels) took over in all aspects. He gave me a sense of calmness because he was just making plays. I think everybody would agree he made everybody better."
Maranatha's Josh Chamberlain was a consistent scoring threat for the Minutemen and the reason they made a semifinal run in the CIF-SS Division 4A playoffs. Maranatha (24-7, 7-1) also made a CIF State Division IV Southern California Regional playoff appearance.
It was Chamberlain who helped orchestrate the long run before it ever began. He scored 24 points on 10-of-18 shooting in a 57-55 win over Olympic League rival Whittier Christian. That win moved the Minutemen from a No. 4 ranking in Division 4A to No. 2. Maranatha won its final two games after that and earned the No. 2 seed in the playoffs.
Chamberlain, who averaged 16.9 points, went on to earn the league's MVP award and first-team All-CIF honors.
Muir's season was quite a ride, but that isn't to say there wasn't uncertainty surrounding the Mustangs after coach Gamal Smalley dismissed the team's leading scorer. The roller-coaster season found its groove when the CIF-SS Division 5AA playoffs started, and sophomore Jelani Mitchell helped fill the scoring void.
The 6-2 wing guard averaged 16 points and scored in double figures in six playoff games that included a trip to the CIF-SS Division 5AA championship game and a CIF State Division IV Southern California Regional playoff appearance.
Muir's grand return to the playoffs is credited to two underclassmen. Mitchell, who earned first-team All-CIF honors, will shoulder more offensive responsibility next season when the junior-to-be hones his skills alongside fellow guard Dion Nelson.
miguel.melendez@sgvn.com
COACH OF THE YEAR
TOM HOFMAN
Tom Hofman didn't have to think when asked where this season's La Caada High School boys basketball team ranks in terms of accomplishments in his 25 seasons as head coach.
"They've achieved more than any team ever," he said. "When you win a CIF championship in a tough division, win 30 games and go on to the semifinals of the (CIF State Division III Southern California Regional playoffs), as far as I'm concerned this team would be No. 1."
And that's all that matters, really – what Hofman thinks and feels. After all, he's been here through the ups and downs that saw nine years pass before the Spartans won their first CIF-Southern Section championship since beating San Dimas in 1992. There was the heartbreak of losing to Campbell Hall in 2007, and the elation of his team coming together this season to peak at the right time, slaying dragons in the Division 3AA playoffs to meet the giant of them all – Price of Los Angeles – and beating the Knights.
The accomplishments wouldn't have been possible without a coach who wouldn't let his team underachieve. It's why Hofman is the Star-News 2011 Coach of the Year.
"They really came together and sacrificed a lot of their individual goals," said Hofman, also the CIF-SS Division 3AA Coach of the Year. "There's a true sense that they weren't worried about anything other than the team."
Hofman didn't kid himself. At one point during the season, he questioned his team's commitment and told his players the season would end very soon if they didn't find a way to play better together.
The team meeting gave way to individuals abandoning self-serving goals, and La Canada went from being ranked 16th in Division 3AA at the start of the season to earning the No. 3 seed for the playoffs.
"I think people, when we kept moving up, they were wondering why we kept moving up," Hofman recalled, "but we knew we were a pretty good team if we wanted to be. We were starting five seniors who had been playing for so long together. There was a little bit of a challenge they took upon themselves, that they belonged up there in the rankings."
La Caada never succumbed to pressure in the quarterfinals against Bishop Montgomery and squeezed out a 72-68 double-overtime win. It was just as intense on the road, where the Spartans earned a 61-60 overtime win over Palm Springs. La Canada was still considered a huge underdog, though, against Price, which featured three Division I-bound stars.
La Caada stunned the Anaheim Convention Center crowd when it jumped to a 21-9 lead after the first quarter. The pressure was on when Price closed the gap in the third quarter, but the Spartans withstood the pressure with their trademark suffocating defense in the waning minutes to accomplish what many considered impossible.
"I don't think I've ever seen a better team win a CIF championship," Hofman said. "If you look at the caliber of teams we had to play and beat, this was a true championship deserved."