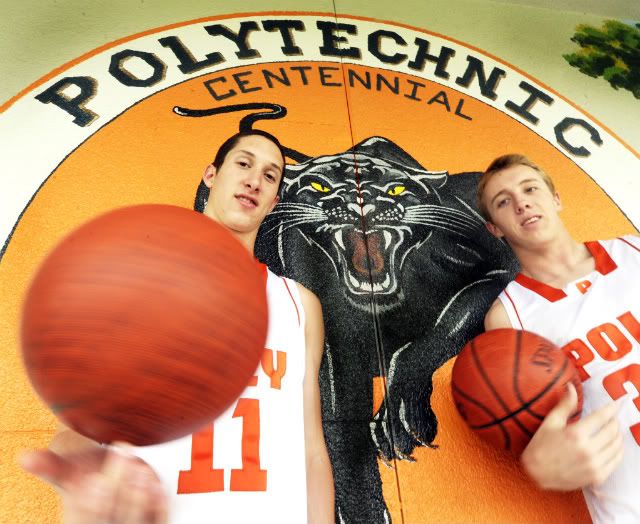 EIGHTH ANNUAL ALL-STAR
BASKETBALL CLASSIC
When: Saturday, April 23
Where: Damien High School
Girl's game: 4:00 p.m.
Boy's game: 6:00 p.m.
Admission: $8 adults, $5 students/children
LAST YEAR…
Girls game: Star-News 72, Tribune 67
Boys game: Tribune 118, Star-News 111, OT
SERIES RECORD
Boys Star-News leads series, 5-2
Girls Star-News leads series, 5-2
By Miguel A. Melendez, Staff Writer
The trash talking started a few months ago. It's gone back and forth since.
With the high school basketball season long past them, Pasadena Poly seniors Daniel Wohl and Hunter Merryman can't help starting the rivalry as opposing foes on college teams that play in the same conference.
Wohl, a 6-foot-5 wing guard, will play at Williams College in Williamstown, Mass. Merryman, a 6-6 forward, will play at Middlebury College in Vermont.
So, why all the talk?
Williams and Middlebury play in the New England Small College Athletic Conference, and each reached the NCAA Division III Final Four this season.
Wohl had bragging rights after Williams won the first meeting, 69-64. Merryman got some payback when Middlebury won 63-54 in the NESCAC championship game.
Wohl contends the series is even. Merryman argued beating Williams in the conference tournament title game carries more weight and gives Middlebury the upper hand.
CLICK ON THREAD TO CONTINUE READING

The friendly barbs are the culmination of a dominating tandem that developed a strong cohesion over a six-year reign.
Wohl and Merryman first set foot on Pasadena Poly's middle school campus as seventh graders. They leave a lasting impression with a decorated high school career on and off the court.
The duo will play together for the final time donning Pasadena Poly jerseys as Star-News All-Stars in the eighth annual Tribune/Star-News All-Star Basketball Classic on Saturday at Damien High.
Wohl and Merryman said they reflected on the pleasant memories they developed instead of feeling disappointed after losing to Sierra Canyon in the semifinals of the CIF-Southern Section Division 5A playoffs.
Reminded this will be the last time they'll play on the same team together, both were taken aback.
"Wow, I didn't even think about that," Wohl said."This is it."
Pasadena Poly coach Brad Hall, who just completed his 26th season at the helm, has seen his fair share of stellar student-athletes.
"We've had some very strong kids here," he said. "When you think of the top players who played basketball at Poly you're going to think of Hunter and Daniel and what they've achieved."
Wohl and Merryman won 50 games in their final two seasons, led the Panthers to consecutive semifinal playoff appearances and earned first-team All-CIF honors for the second consecutive season.
Wohl is a two-time Star-News All-Area first-team selection. He averaged 20.3 points and seven rebounds this season. His soft shooting touch from virtually any point on the court made him a true offensive threat.
Wohl, editor-in-chief of the student newspaper, takes calculus BC and AP physics and is the friendly face of a strong student section that travels to every championship game. He also runs track and played football his freshman year.
Merryman is a two-time Star-News All-Area second-team selection. He muscled his way to averaging 20.7 points and 8.9 rebounds per game. He never was one to shy away from contact.
In a true sign of his impressive talents, Merryman was voted first-team All-CIF in baseball last season as well as in football after leading the Panthers to the semifinals of the CIF-SS Northeast Division playoffs. He's likely to complete the trifecta when the baseball season ends.
The consensus among coaches is Merryman is a better baseball player. Wohl scoffed at the assessment, much to Merryman's delight.
"I have a lot of love for the game," he says. "I know it sounds corny, but that's all I can say to explain it."
Wohl reluctantly conceded his best subjects are math and science. But he likes to write, making it all the more difficult to select his major. Merryman said economics might be ahead for him.
Either way, it explains their decision to go East and continue their education.
U.S. News & World Report ranked Williams the No. 1 liberal arts college in the nation. Middlebury was No. 4.
On to bigger and better things – trash talk and all.
miguel.melendez@sgvn.com