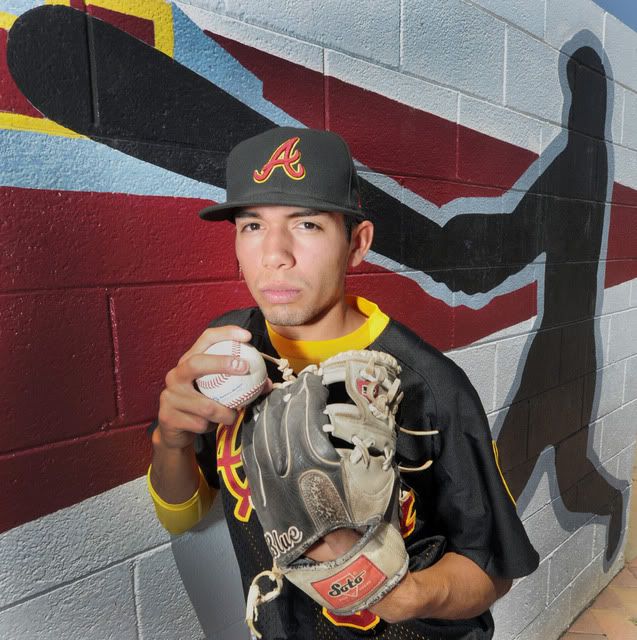 By Miguel A. Melendez, Staff Writer
Tyler Blue Dominguez entered the world on March 31, 1993, with his mother's umbilical cord wrapped around his neck.
It was the third of four births for Dominguez's mother, Estela.
"I don't labor much," she said, "which was surprising when he got stuck."
For nearly two full minutes, Dominguez's tiny body was blue – hence his middle name. But he wasn't just blue.
"He was really, really, really, really blue," Estela said. "They don't turn pink until they breathe."
Making the Arcadia High School senior's birth all the more interesting, Dominguez was born at home – in the couple's bedroom, to be exact – with the help of a midwife, who provides care for those who prefer a natural birth experience.
"She unwrapped the umbilical cord," Estela said, "and sure enough he was fine."
CLICK ON THREAD TO CONTINUE READING

Only four years ago did Dominguez begin to embrace his unusual middle name. The first time Arcadia coach Nick Lemas called roll in Dominguez's sixth-period baseball class, he had to make sure he wasn't reading a typo.
"Are you serious?" is how Dominguez remembers Lemas reacting.
It wasn't long before friends and teammates started calling him "T-Blue" or, simply, "Blue."
His sophomore year, during a chemistry-building trip to Camp Goalz at Camp Pendleton, Dominguez revealed to his teammates the meaning behind his middle name.
That his body was blue was the main reason, but Dominguez's father, David, made a confession to his wife four years ago.
"I wanted some kind of blues reference because I love blues music," said David, a recording engineer and music producer.
For a week, Dominguez didn't have his first name.
"We knew his middle name before his first name," David said. " `Tyler' actually came a week later."
It took that long because David wanted to name his second of three sons Lennon.
"I'm a huge Beatles fan," David said. "I wanted to name him after John Lennon."
"That was not going to happen," Estela said with a laugh.
Dominguez is glad, too.
"It just doesn't go," he said. " `Tyler Blue Dominguez' just seems to flow the more you say it."
David came up with Tyler because he's a fan of the band Aerosmith, and named him after the band's lead singer, Steven Tyler, albeit with some trickery.
"I wanted to name him Tyler," David said, "but I thought if I told her that, she wouldn't have it either. I thought if I tricked her into it I could get him to be Tyler."
Mission accomplished.
David engineered a record for Papa Roach, and during a party with the band, he met a daughter of Steven Tyler, Mia, who at the time was married to Papa Roach drummer Dave Buckner.
"I went up to her and told her I named my son after her dad's name," he said. "She was pretty flattered."
Dominguez grew up surrounded by music giants, and once, at only 3 years of age, attended a private party for Guns N' Roses, David said.
The passion for music David has is evident by the names he chose for his first three kids, a responsibility Estela wanted him to have.
First came George Michael, 24. Oddly enough, he's not named after the singer.
"That's just a big coincidence," David said. "He's named after my father and grandfather."
George Michael also was a quick birth, Estela said. His birth was painless too, in spite of what doctors may have thought.
"They were checking the contractions with their fancy medical equipment and insisted I take their medicine," Estela recalls. "Whenever they offered, I told them I was fine. I didn't feel a thing."
Then there's Stevie Rae, 21, named after blues guitarist Stevie Ray Vaughan. Estela said she knew Stevie Rae was coming, but only made it to the car where Estela gave birth on a cold morning.
"Stevie was born in the car," Estela said. "We were trying to make it to the hospital. It was a new Chevrolet car with paper plates. We had to use a lot of Simple Green. It seems funny now, but at the time it was very traumatic.
"(David) felt her first breath after he caught her. She was born face-down, and didn't know if it was a boy or a girl because he was too afraid to turn her around. She was slippery and didn't want her to slip out of his hands."
Dominguez, 18, is the starting shortstop on the Apaches baseball team. His brother, David Jr., is a sophomore second baseman. The name David Jr. was a given.
"I told him I would get to name our son," Estela said. "I knew I was going to name him after his father."
"She wanted to have a say in at least one of the names," David Sr. said. "She gave me the birth certificate. That's how I found out."
Dominguez, who's hitting .318 with 11 RBIs and five doubles, has the word "Blue" stitched on the face of his glove. He said he loves the color blue, and always has since he was a kid. His car is blue.
"But I don't know if it grew on me or if it's because I like the Dodgers a lot or because it's my middle name," he said. "But it's a cool color, so you can't lose."
Arcadia baseball announcer John Valerio started introducing Dominguez after his sophomore year, "Tyler, B-l-u-u-u-u-e!"
Corey Kwok, an alternate announcer, goes with "Tyler, T-Blue, Doooooomiiinguez."
"It's kind of cool when they do that," Dominguez said. "You notice that. People remember you because of such a unique middle name."
David's love for music is not lost on his children. Dominguez, for example, is a fan of hip hop and rock. He's into conscious rappers such as Lupe Fiasco and Drake. His eclectic taste in rock ranges from Linkin Park to Red Hot Chili Peppers.
Dominguez said he's proud of the fact his father's music passion translated to his children's names.
"It's different," Dominguez says. "If I ever have kids, maybe I'll give my kids a unique name with meaning."
Estela, even with some name objections, wouldn't have it any other way.
"That's who he is," she says of her husband. "That's who we are. Coupled with the fact Tyler was born blue and my husband loves blues music, it just made sense to go with Blue.
"Music is what puts food on our table and a roof over our heads. Would I say no? No, I wouldn't. And nor should I. You remember Blue because of his name … and by the way, blue is my favorite color, so blue's fine."