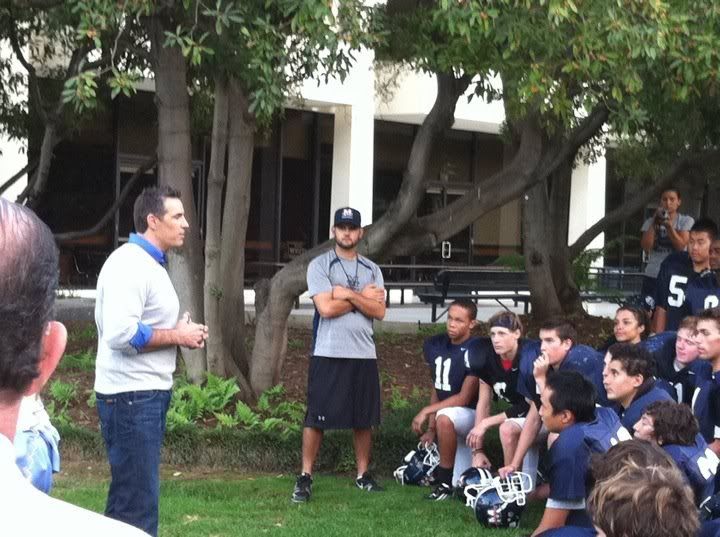 Photos courtesy of Maranatha AD Brian DeHaan
Two-time NFL MVP and Super Bowl XXXIV MVP Kurt Warner paid a visit to Maranatha High on Tuesday evening. Warner gave the Minutemen a 10-minute pep talk after practice concluded, and he brushed on several subjects. To be clear, I totally would have gone and shot video of this, but, like Maranatha, I found out last minute and I was in West Covina working on PrepXtra Live when all this came about.
Warner was next door shooting a Christian-based movie. Maranatha athletic director Brian DeHaan said Warner met the kids in between takes and mainly talked about "pursuing excellence in everything you do, leadership and respect."
"It was really an inspirational talk," DeHaan said. "It was great for our kids to meet him."
Warner, whose 12-year career is considered one of the greatest stories in NFL history, was selected MVP in 1999 and 2001 with the St. Louis Rams. He also led the Arizona Cardinals to Super Bowl XLII. His story is well documented. Undrafted in 1994, Warner bagged groceries in Cedar Falls, Iowa before a stint in Arena Football League. He finally signed with the St. Louis Rams in 1998 before a history-making season in 1999 when he threw for 4,353 yards and 41 touchdowns.
During the Q&A session, Maranatha's Matt Hall asked to shake Warner's hand and a fellow teammate asked if Warner ever thought about giving up while bagging groceries.
"He said no," DeHaan recalled. "That that was never a thought that crossed his mind. He just believes in whatever you're doing, whether you're bagging groceries or playing in the NFL, you have to pursue it with excellence."
Warner talked about maintaining relationships with college teammates while bagging groceries and working out his schedule so that he can continue working out in the mornings and preparing for a football career while also making a living in the meantime.
"There are a lot of books that have been written by him, for him and with him," DeHaan said. "It was great for the kids to hear about him persevering."