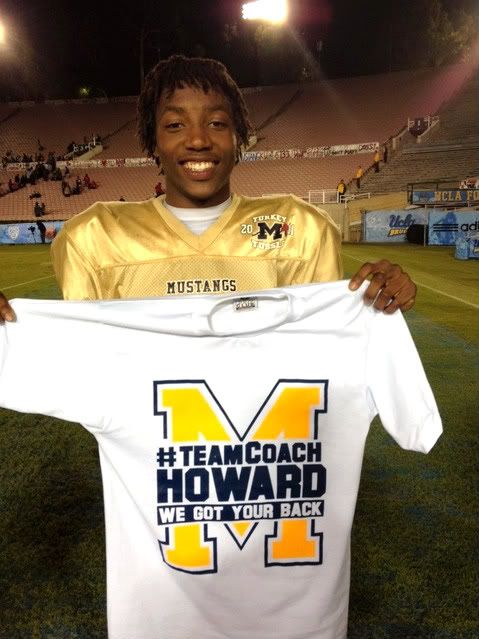 After ringing the Victory Bell to celebrate Muir's win over Pasadena in the Turkey Tussle, the second thing Muir WR Kevon Seymour did after the game ended was break out the pretty cool t-shirt (above) specially made in support for Ken Howard, the longtime football coach who was placed on administrative leave four weeks into the football season for an alleged altercation with a student.
This season the Mustangs have dedicated their season to fallen teammate Brandon Jackson, but it's also safe to say that every win can't be fully celebrated without thinking about Howard, a man who has spent the better part of a decade at Muir High giving back in more ways one can count.
He's more than just a football coach, and he's meant as much even to those who are not athletes. He's the man hustling in the background getting his players recognized on this blog and in the pages of the Star-News. He was a constant presence at home basketball games making sure the event ran as smoothly as possible. I know he made my life a hell of a lot easier when I needed help accessing football players for interviews, photos, and even helping arrange for parking and a comfortable seat, table and outlet for my laptop whenever I covered at Muir home basketball game against Pasadena.
When plans were in the works for our first Turkey Tussle magazine last year, the first person I phoned to deliver the news was Howard, who undoubtedly was excited about helping promote not just his players, but also Pasadena and the rivalry itself that captivates an entire city come November. When working on the magazine, Howard helped arrange for every Muir projected starter to be on campus and ready to have their photos taken. The entire process lasted all but 30 minutes. The process was so efficient that we simultaniously held a photo shoot of QB Jeffrey Davis for a special feature/story in the magazine. Howard's absence during this year's work on the Tussle was noticably absent, to say the least. When we began working on the Tussle magazine we had hoped for the same efficiency we had last year, but to no avail. Ken Howard was not there to help make this an easy move, and that's no coincidence. What lasted a mere 30 minutes last year lasted just under three hours this season. Howard would have never allowed that. It was his relentless sense of urgency that made potentially chaotic situation at the very least managable, if not steady.
The message is clear, and Seymour wanted it to be known how he and his teammates feel about their coach, and the shirt speaks for itself.