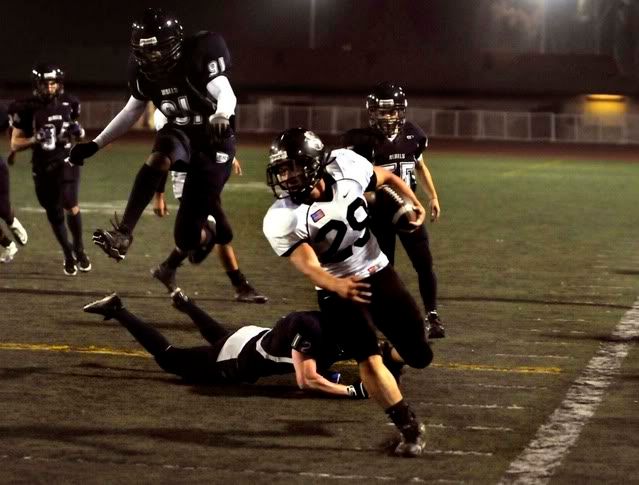 Above: Rio Hondo Prep's Charles Quintero was a running machine. His brother, Andrew, won't get a chance to showcase his talent in Saturday's title game.
Andrew Quintero is sneaky.
The Rio Hondo Prep starting senior linebacker, who has been out with a broken collar bone suffered Oct. 14 against Viewpoint, went to the doctor last week.
But it wasn't a routine checkup for the season-ending injury.
Quintero scheduled the appointment the week leading up to the Kares' semifinal game against Boron in an attempt to convince his doctor he could play football again.
Quintero, a 5-foot-9, 160-pounder who suffered the injury late in the second quarter while starting in place of injured running back Alex Tayco, was far from returning to any kind of physical activity.
The short answer was "no." Quintero was still two months away before he could play football. With no luck there, Quintero went to Rio Hondo Prep coach Ken Drain with a proposition.
"He asked me what if he could get a note from his mother to let him play," Drain said. "He really wants to play, but I told him that was not going to work for me."
Quintero will sit out Saturday when Rio Hondo Prep (12-1) hosts Desert Christian (11-2) of Lancaster in the CIF-Southern Section Northeast Division title game. Kickoff is 7 p.m.
Quintero is a three-year starter and among the select group that reached the Northeast Division finals in 2008 where the Kares lost to Linfield Christian.
Offensive linemen Dave Drain (6-3, 235) and Javier Rodriguez (6-3, 275) are three-year letterman. Drain is a three-year starter and Rodriguez is a two-year starter.
Tayco also is a two-year starter on defense and KJ Moore is a three-year starter at linebacker.