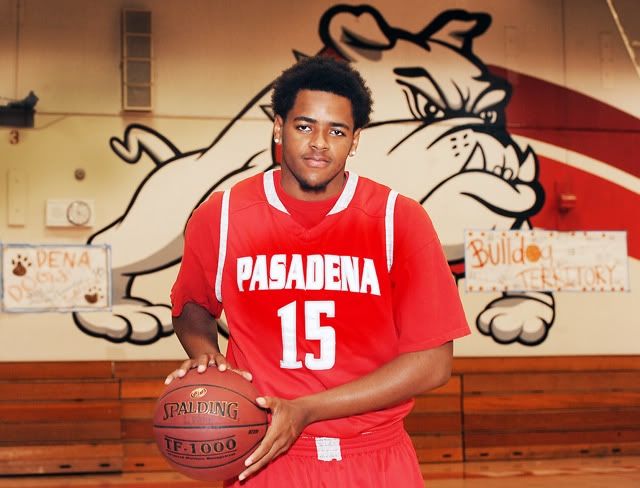 Above: Pasadena's Brandon Jolley, the Pasadena Star-News Player of the Year (Staff photo by Walt Mancini)
2011-12 STAR-NEWS ALL-AREA TEAM
BOYS BASKETBALL
Player of the Year: Brandon Jolley, Pasadena, Jr.
Coach of the Year: Tim Tucker, Pasadena, 17th season
FIRST TEAM
Forward: Blake Hamilton, Pasadena, Sr.
Forward: Jelani Mitchell, Muir, Jr.
Forward: Jessy Cantinol, Renaissance Academy, Sr.
Guard: Jeremy Major, Maranatha, Jr.
Guard: Ajon Efferson, Pasadena, So.
SECOND TEAM
Forward: Ali Jabalameli, South Pasadena, Sr.
Forward: Darrell Dansby, La Canada, Sr.
Guard: John Haywood, Pasadena, Sr.
Guard: Dion Nelson, Muir, Sr.
Guard: Vince De Guzman, Renaissance Academy, Sr.
By Miguel A. Melendez, Staff Writer
twitter.com/StarNewsPreps
Brandon Jolley will tell be the first to say he didn't maximize his potential last year as a sophomore on the Pasadena High School boys basketball team.
The raw talent was there, but the hunger, drive and determination pieces still hadn't fallen into place. Jolley, a 6-foot-5, 220-pound junior, showed glimpses of what he could become, giving way for tremendous upside.
Jolley's strong off-season work didn't translate on the court immediately, through no fault of his own. Jolley, a power forward, suffered an ankle injury at the start of the season and missed a key games against powerhouses La Verne Lutheran and L.A. Price. But the resiliency was evident, and soon his talent would be as well. Jolley fought his way back in the lineup, earning all-tournament honors in Sacramento and San Diego where the Bulldogs won the prestigious Mt. Carmel tournament, the first sign of not only where Pasadena was headed, but Jolley, too.
His progress was obvious, his talent coming to fruition. Jolley led a resurgent Pasadena team reinvigorated by its lone loss to Crescenta Valley. The Bulldogs came bounced back in the regular-season finale against Muir, as Jolley led the way with a game-high 28 points, eight rebounds and two blocks. The surge continued in Pasadena's run through the CIF-Southern Section Division 3AAA playoffs as Jolley would reel off a dominating performance that included 11 points, eight rebounds, eight assists and three steals against Bonita in the quarterfinals, a perfect blend guard skills and power forward mindset.
"I think he definitely rode us through the playoffs," Pasadena coach Tim Tucker said.
Jolley then dropped 22 points and 10 rebounds on Beverly Hills before completing the masterpiece in the finals against Arroyo Grande with a game-high 18 points, four assists and two blocks, leading Pasadena to its fifth CIF championship in school history.
Jolley finished the season in dominating fashion with 19.9 points, nine rebounds and three assists, helping Pasadena reach the semifinals of the CIF State Southern California Regionals. For his turnaround, dedication and dominance on the court, Jolley, along with being the CIF-SS Division 3AAA co-player of the year, is the 2011-12 Pasadena Star-News Player of the Year.
CLICK ON THREAD TO CONTINUE READING STORIES

"I'm on a very good team and to think I can win this award with so many good players and teams in our area means a lot to me," Jolley said. "Makes me want to come back way stronger next season."
The scariest thing about Jolley perhaps is that he's yet to reach his full potential, and with that kind of prognostication it's no wonder many feel Jolley will become a coveted recruit as he approaches his senior year.
Jolley's improved several aspects to his game, adding a deft free-throw shooting stroke, a post-game presence and the eye to find the open man as evident by the season-high eight assists against Bonita in the playoffs. He no longer forces shots, a sign of maturity. When he adds a consistent mid-range jumper and muscle to his already-imposing frame, Jolley will look even more primed for the next level. And that he returns next season is a big reason why Pasadena already is being tabbed to win back-to-back CIF championships.
"I think the hungrier he gets and the more he gets in shape he'll dominate even more," Tucker said. "Because he has skills of a guard. He sees the open guy. He can block shots, make great plays defensively."
Tucker believes Jolley is still at about 75 percent of where he can be. And when he reaches 100 percent?
"He's going to shock a lot of people," Tucker said.
The All-Area team also includes two of Jolley's teammates in shooting guard Blake Hamilton and guard Ajon Efferson.
Hamilton, a 6-5 senior, was a walking highlight-reel. His athleticism paved the way for fast-break dunks. He averaged 16 points, 11 rebounds and four blocks on the season. He caught the eye of several Division I schools as word of his prowess spread during the playoffs. He reeled off 25 points, six rebounds four steals and three assists in the second round of the State playoffs. With UCLA coach Ben Howland and Cal State Northridge coach Bobby Braswell in attendance, Hamilton followed up his performance with 22 points, 11 rebounds and three assists.
The fact Efferson is on first-team as a sophomore speaks volumes of his performance and ability to weather the pressure of being a point guard for the San Gabriel Valley's premiere basketball team. Efferson, a 6-footer, averaged 14 points and five assists. His bursting speed created fastbreak chances, but his mental focus helped execute them.
Muir's Jelani Mitchell proved to be one of the best shooting guards in the area. He led Muir to a 24-2 record before the team had to forfeit 20 games at the end of the season because of an ineligible player, causing Mitchell to miss the spotlight. But that hasn't deterred Mitchell from garnering attention from Division I schools. UCLA and others have shown interest in the 6-4 junior guard, and Gonzaga came down to Muir to watch him workout not long ago. He finished the season averaging 14.3 points, 4.1 rebounds, three assists and 1.5 steals, leading Muir to its first Pacific League title in over a decade before the forfeits.
Maranatha's Jeremy Major is the other guard. He led the Minutemen to a 21-6 record and second round appearance in the CIF-SS Division 4AA playoffs. The 5-10 junior proved to be one of the most complete players, leading the area in scoring with 25.8 points to go along with 6.1 rebounds, 4.6 assists and 1.9 steals. He is committed to Pepperdine.
Rounding out the All-Area team is power forward Jessy Cantino. The 6-5, 240-pound senior forward gave Renaissance Academy an intimidating presence inside, leading the Wildcats to their first CIF-SS Division 6 championship and the finals of the CIF State Southern California Regional finals in Division 5. He finished the season averaging 15.1 points and six rebounds.
COACH OF THE YEAR

Tim Tucker
By Miguel A. Melendez, Staff Writer
twitter.com/StarNewsPreps
The list of accolades is impressive.
Pasadena High School boys basketball coach Tim Tucker has accomplished just as much as a player and as a coach, evidence of a pure winner. He led Pasadena to its first CIF-Southern Section championship as a player in 1977, the same year the Bulldogs were crowned state and national champions. He followed it up with a sensational senior year leading Pasadena to a second consecutive CIF title, helping legendary coach George Terzian become the school's only coach to win back-to-back titles.
Tucker as a coach made four previous runs to the CIF finals before this season, bringing home his first as a coach in 2007. But it was his fifth trip to the finals this past season that brought the most scrutiny and pressure he could have imagined in his 17 seasons at the helm.
The pressure compounded when Pasadena before the season began was placed in the new Division 3AAA, and a quick scan at the teams grouped in the new division led to a consensus among coaches that the Bulldogs were going to win the title.
Victory celebrations were short-lived during the regular season, even after beating rival Muir in the season finale. The mood was sober as was every post-game meeting after dominating victories in the run up to the Division 3AAA finals. It was about the same after Pasadena beat Arroyo Grande at Anaheim Arena to bring home the school's fifth CIF championship. This was more a sense of relief than it was about exuberance. The expectations, weighing heavily on Tucker, finally were lifted.
"This was the toughest season I've had as a basketball coach," Tucker said. "We were expected to do what we did."
There's no other basketball program in the San Gabriel Valley like Pasadena where it's title or bust. Tucker knew the pressure that came with building on Pasadena's storied tradition. So while the pressure weighed heavy on his shoulder, it was that same pressure Tucker thrived off of. That he came away unscathed in the process of etching his name in Pasadena lore is what makes Tucker the 2011-12 Pasadena Star-News Coach of the Year.
It's been exactly one month since Pasadena lost a nail-biter to St. John Bosco for the right to play in the CIF State Southern California Division III Regional championship. The loss still stings, but no longer is Tucker drained from the energy needed to continually make deep runs well after other teams have turned in equipment and even had their team banquets.
"The wear and tear," said Tucker, who also earned the same honors by the California Coaches Association and in CIF-SS Division 3AAA. "It takes a lot out of you. I'm just now recuperating from it all."
It's what winning coaches do, take wins and rings in stride while slowly but surely the sting of "what could have been" subdues.
"We lost the Pacific League title outright by a total of three points, and in both games [lost to Muir on the court before its forfeit and to Crescenta Valley on a last-second shot] we were in charge of our own destiny."
Pasadena finished with a 28-7 overall record and ranked 25th in the state. Five of the Bulldogs' seven losses were by three points or less, three of which came on buzzer beaters. But a loss near the end of the Pacific League to Crescenta Valley was as much hurtful as it was necessary.
"It made us realize we're beatable," Tucker said. "And from that point on we were re-focused, re-dedicated. We took it to the next level."
Pasadena routed every team in the playoffs, and while the Bulldogs were overwhelmingly superior in Division 3AAA, it was Tucker who regrouped his team to get past the criticism of not playing focused from start to finish.
"That ugly mantra started to rear its head," Tucker said. "There were inconsistencies that started to peak. We survived that."
With talent and a well-executed game plan there's always room for a little luck, and Pasadena got it by virtue of surviving the dreaded "trap" game.
"I looked at Damien and they were a very good squad that was victim of a long road trip," Tucker said. "We were lucky that our long road trip (to Beaumont) didn't become a trap game."
Tucker blocked it out, and in the process got his team to follow suit. That Pasadena remained as a No. 2 seed in the weekly polls despite close losses only validated the respect Pasadena had earned from voting coaches.
"It could have went bad for us and dropped another spot," Tucker said. "We could have been given a road trip to Palm Springs or something."
But respect isn't given, and Pasadena earned it by playing the area's toughest schedule, first with its prestigious Rose City Classic then taking on some of the best teams in California with trips to Sacramento and San Diego before returning for league play. It was Tucker's game plan all along to mentally and physically prepare the Bulldogs for a long road (eight playoff games) Tucker knew was coming.
It's easy to see why Tucker became one of the most, and in at least one case the most, sought after coaches when the season ended. There never was really a temptation to leave Pasadena, especially with a chance to win back-to-back titles. Tucker already has championship on his mind as he prepares for next season with a strong nucleus returning that could rival any all-star team. The only difference is the pressure now is all his.
If he wins, Tucker will join his mentor George Terzian as the only Pasadena coach to win two titles in back-to-back fashion. It would be Tucker's third if his goal pans out, and just maybe the area will finally recognize a legend in the making.
miguel.melendez@sgvn.com