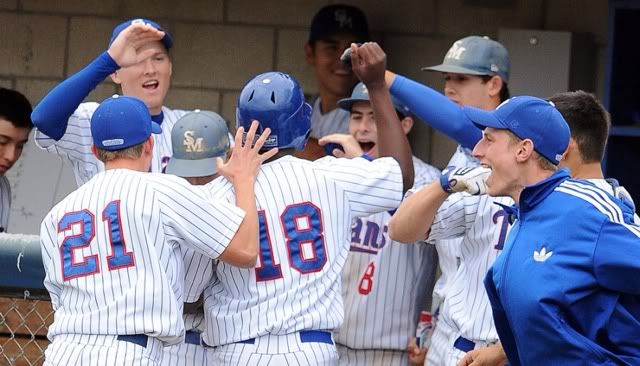 Burabank 3, Arcadia 0: The Apaches snap their long leauge winning streak that dates back to the 2008-09 season when they won their final three league games. Arcadia then went 14-0 the following season and again 14-0 last year. The Apaches were 10-0 heading into their game with visiting Burbank today. Arcadia visits Pasadena on Friday, and I'll be there. The Apaches got a solid pitching performance from Darren Kerfoot throwing six innings allowing no earned runs. Andrew Cordeiro came in the 7th inning in relief and gave up one earned run. Arcadia had a total of five hits but also was plagued by three errors. Burbank had four hits.
San Marino 1, South Pasadena 0: Jeff Bain went the distance and flirted with a no-hitter after three innings. He got plenty of help throughout, with Matt Wofford's clutch base-hit to center that scored Kwame Do in the fifth inning to Kiernan Ryan's stout plays at second in the seventh to help secure the win. South Pasadena's Keaton Leach did as good a job as he could to keep the Tigers within striking distance. But South Pasadena couldn't capitalize in the third inning when two errors allowed for two base runners. Then in the top of the fifth Nick O'Brien, who broke the no-hit bid, was thrown out at third on a safe squeeze. Great heads up play by San Marino catcher Lionel Escajeda and third baseman Bradley Hasslam. San Marino heads to La Canada on Thursday while South Pasadena takes on Monrovia.
Temple City 1, La Canada 0: Corey Copping threw a no-hitter to lead Temple City. La Canada's Mitch Russell also pitched stellar and gave up just three hits in the loss. The Spartans host San Marino on Thursday afternoon. Click here for a complete article on this game.
By Miguel A. Melendez, Staff Writer
twitter.com/StarNewsPreps
SAN MARINO — It was just another prime example of the pitching depth in the Rio Hondo League.
Nevermind what record the South Pasadena High School baseball team boasts with the season winding down. The Tigers proved that on any given day they, too, can make headlines. And withKeaton Leach on the mound to make it a tough climb in the league standings for San Marino, they almost did.
Jeff Bain completed the pitching duel for the Titans, and while he flirted with a no-hit bid, it was strong support behind them that proved to be the difference in San Marino's 1-0 victory Wednesday afternoon.
San Marino (17-6, 7-3) stayed the course at a possible league crown with two games remaining. The Titans visit La Canada (9-12, 1-8) at 3:30 today, and the Spartans are another example despite their deceiving record. La Canada gave Temple City (18-3-1, 8-2) everything it could handle before the Rams pulled away, 1-o. Monrovia (15-4, 7-2) was idle on Wednesday and hostsSouth Pasadena (7-16, 1-9) today.
San Marino proved experience and weathering nerves in clutch moments could overcome its five errors committed. South Pasadena, by contrast, committed just one error that proved crucial in allowing the only run the Titans would need. It also erased a spectacular performance by Leach, who struck out seven, allowed five hits, no walks and one unearned run in six innings.
"Knowing you're going up against such a great competitor in Leach you might only get one chance and you have to find a way to make it work," San Marino coach Mack Paciorek said.
San Marino did, and Bain, whostruck out three and gave up three hits and issued one walk in seven innings, had some help along the way.He had a no-hitter through four innings before Nick O'Brien broke it up on a base hit to right field. It was also in that inning when the Tigers squandered their best chance at breaking a scoreless tie.
CLICK ON THREAD TO CONTINUE READING SAN MARINO GAME STORY


O'Brien advanced to second on a throwing error to first and advanced to third on a Bryan Bednarski base hit to center field off an 0-2 pitch. But with Matt Pinson at the plate, San Marino coach Mack Paciorek called for a pitch out on an 0-1 count. O'Brien was caught in the middle as catcher Lionel Escajeda ran him down before throwing to third baseman Bradley Hasslam, who tagged him out and the innings second out. Pinson would strike out looking with Bednarski in scoring position.
"Our guy at third shouldn't have been going anywhere," South Pasadena coach Anthony Chevrier said. "His job is to read the bunt down. So it wasn't a suicide squeeze where he should have been running home. Again, another miscue."
And a perfect execution on San Marino's part.
"Just trying to get lucky at times," Paciorek said. "Hoping to stop them from getting that one run. It's a chess game at that point and you make an estimated guess. It happened to be at an opportune time."
San Mariono committed two consecutive errors that put Bednarski and Pinson on base with two outs. But Bain didn't succumb to pressure, forcing Dylan Trimarchi and Joey Harmon to pop up and end the inning.
San Marino twice had a runner at third but came up empty. Bain led off in the third with a double to center. Jeff Ryan came in as the courtesy runner and advanced to third on a Kieran Ryan sacrifice bunt. But Alex Eaves grounded out to Leach on a full count. It happened again in the fourth when Justin Kreindler got on with a base hit. He advanced to second on a passed ball and advanced to third on another passed ball after Harmon caught a line drive for the first out. Garrett Young struck out looking and Garret Glazier struck out swinging to end the threat.
But the third time proved to be the charm as Kwame Do in the fifth reached all the way to third base on a fielding error where miscommunication broke down in right field as the ball bounced off the right fielder's glove.With no outs, Paciorek opted for Matt Wofford to pinch hit, and on an 0-2 count connected with a base hit to left to drive in the lone run.
"That's been our biggest issue," Chevrier said. "Being in the game and making a big error. The center fielder was trying to do a little too much and put us in a situation where it gave them another opportunity."
An opportunity for Wofford, who had been in a hitting slump, to prove himself. And he did.
"He knows at some point, after going through a rough patch, you're going to get an opportunity to redeem yourself," Paciorek said. "And he came through in a big way."
Last week it was three double plays turned by Ryan Hill. On Wednesday it was Kiernan Ryan's turn at second base asSouth Pasadena wouldn't go away. Ryan stopped two hard grounders from Justin Cornford and Alex Chu and fired away to Young at first to end the game with O'Brien at second after a single and an advance on a throwing error.
"The guy's reliable," said Bain of Ryan. "He's a machine. He does nothing but make plays."