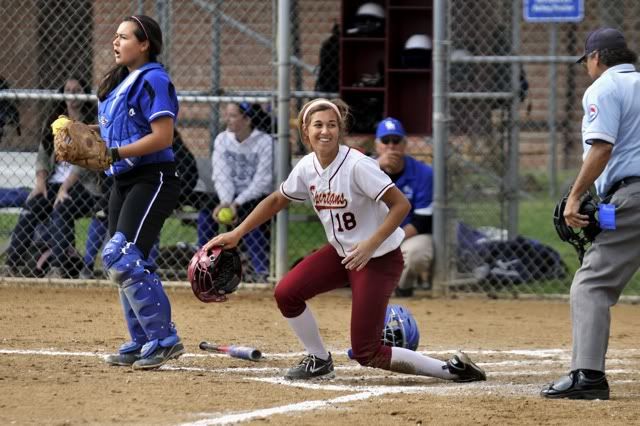 Above: Annie Monroe beats the tag at home to give Spartans a 1-0 lead.
By Miguel A. Melendez, Staff Writer
twitter.com/StarNewsPreps
LA CANADA FLINTRIDGE – When two of the state's top strikeout leaders go head to head, there's going to be very few scoring opportunities.
With clutch hitting and showing impressive speed on the base paths, the La Canada High School softball team ran away with a 3-1 victory over San Marino on Thursday afternoon in Rio Hondo League play.
La Canada's Lauren Cox was clutch as usual, striking out nine and allowing a run on two hits in seven innings. She made 94 pitches (62 strikes) and walked just one batter. She headed into the game ranked No. 11 in the state in strikeouts with 219.
San Marino's Michelle Floyd was also brilliant. She made 110 pitches (75 strikes) and struck out 10, giving up two earned runs on three hits and one walk in six innings. She was sixth in the state with 239 strikeouts heading into the game.
But it was La Canada (19-4-1, 8-1-1) that pounced on a couple opportunities and it paid off. It started at the plate and made its way onto the basepaths.
The Spartans knew Cox would deliver, but it was up to her teammates to deliver in clutch moments. They did, and San Marino (15-8, 7-4) by contrast struggled after losing standout shortstop Alexis Watanabe after she aggravated a back injury.
She made a stellar play in the first inning when she stopped a hard grounder to short. She took a tumble and from her knees delivered to first baseman Elizabeth Shelburne to record the out, but soreness in her back lingered and Watanabe, a two-time first-team All-Area shortstop, did not return to the game.
Hits are hard to come by any time Floyd, all 6-foot-4 of her, is on the mound. The Arizona-bound junior throws with authority, and no one would know better than Annie Monroe, who was hit by a pitch on a 1-2 count to lead off in the fourth inning, the first opportunity for the Spartans.
Monroe then stole second before advancing to third on a ground out. With one out, freshman Olivia Lam delivered in a pressure moment, connecting on a 1-1 pitch for a bunt. San Marino third baseman Jackie Martinez hesitated to first before finally throwing home. Monroe beat the tag to give the Spartans a 1-0 lead.
"We pulled out just about everything we could to get it done today," La Canada coach KC Mathews said.
Despite one of its best players out because of an injury, there was no backing down from San Marino. It showed in the fifth inning when Shelburne led off with a double to center. She scored on a Raquel Edmonds RBI double to tie the game.
La Canada wasted no time again pouncing on an opportunity, and it came in the fifth.
Leyva led off with a bunt single and she stole second before Selina Mohr, a pinch hitter, drove her in with a base hit to center on a 3-2 pitch. Mohr stole second and advanced to third on a grounder. Showing good speed throughout the lineup, Mohr scored after a passed ball to round out the Spartans' scoring.
"Our team speed right now is an aspect we're looking to take advantage of," Mathews said. "Michelle (Floyd) throws hard and when the ball gets away it's because she's throwing hard. We were able to take advantage of that."
Small plays turned into bigger plays for the Spartans.
"When you're playing at this level in this kind of league against this kind of team you have to make those kind of plays," San Marino coach Nick Schepperle said. "We were prepared, but sometimes things like that happen. It's nobody's fault. It's part of the game. You get that kind of stuff even in the big leagues. It happens."