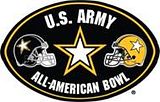 CLICK HERE FOR A COMPLETE LIST OF THE ENTIRE NOMINEE LIST
Pasadena QB Brandon Cox is one of 39 California athletes nominated to the 2013 U.S. Army All-American Bowl. He is among the nation's top 400 incoming senior football players. The West San Gabriel Valley enjoyed its most success at this bowl last season when Muir's Kevon Seymour and Monrovia's Ellis McCarthy were selected to the game. Seymour announced there he would sign with USC and McCarthy announced he would attend Cal before switching to UCLA.
Those nominated will have the chance to showcase their talents on Saturday, January 5, 2013, in the annual East vs. West match-up, at San Antonio's Alamodome televised live on NBC at 1:00 PM EST. The 39 nominations trail only Florida (56) and Texas (55).
"The U.S. Army All-American Bowl provides the national platform for young athletes and musicians to showcase their talent and strength," said Bruce Jasurda, Chief Marketing Officer, U.S. Army in a statement. "This nomination recognizes the mental, emotional and physical strengths, and leadership qualities, these athletes possess both on and off the field; qualities they share with Army Strong Soldiers. The Army congratulates all of the athletes on their nomination."
The athletes were nominated by the U.S. Army All-American Bowl Selection Committee, which consists of All American Games' network of regional coaches throughout the country and Rivals.com. Of the 400 nominees, 90 will ultimately be selected and invited to the Bowl. The next step for the nominees occurs in September, when the U.S. Army All-American Bowl Selection Tour begins. Final player selections along with All-American Marching Band musicians will be announced nationwide throughout the fall, with the Selection Tour ending in early December.